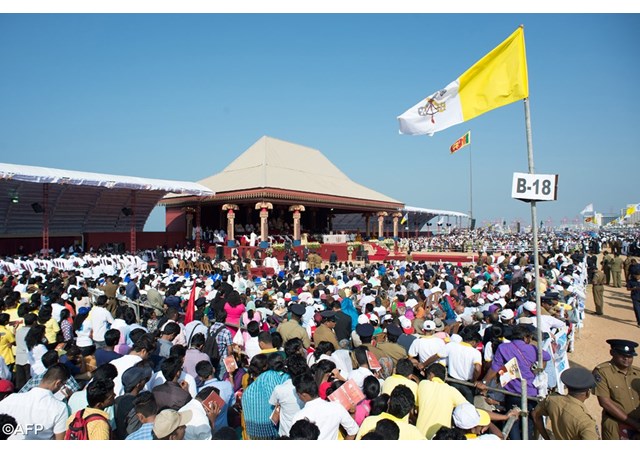 (Vatican Radio) Pope Francis on Wednesday celebrated the Mass of Canonization for St. Joseph Vaz in Colombo, on the second day of his apostolic trip to Sri Lanka. Officials estimated over 500,000 people attended the Mass.
"I was there as a minor seminarian when Pope John Paul II came [in 1995], and it was also a very grand event. There were a lot of people, but I didn't see the Galle Face Green fully packed, but this time it was fully packed," said Father Anselm Shiran, who serves in the Media Secretariat for the Papal Visit.
Listen to the full interview by Vatican Radio's Louis X. Jerome, S.J., with Fr. Anselm Shiran:
He said the larger crowd was due to several factors, including the end of the decades long civil war in 2009, improvements in public transportation on the island, and the participation of many pilgrims from India who came for the canonization, since St. Joseph Vaz was born in Goa.
Father Shiran noted the fact that even though the crowd was so large, the participants of the Mass avoided the atmosphere of a carnival, and created a prayerful environment. 
"It is not very uncustomary for us to have that mentality because normally before a Mass we pray the Rosary, and that kind of spirituality is already there, so when the public sound system actually gives the hymns and the Rosary, and people are actually keeping their rosaries in their hands…so it is a beautiful atmosphere," he explained.
Father Shiran said the Papal visit has given a glimmer of what the future could be like for Sri Lanka.
"It gives an indication how much that we can go forward with regard to reconciliation," he told Vatican Radio.    
He pointed to the interfaith meeting on Tuesday, which was a rare opportunity bringing together leaders from the islands Buddhist, Hindu, Muslim, and Christian communities.
"This gives a signal …if we come together and see each other face-to-face it is really easy, so the coming of the Pope actually reveals the hidden truth in us that is already there," he continued.
"We have won the war, but we have to win the peace," he said.