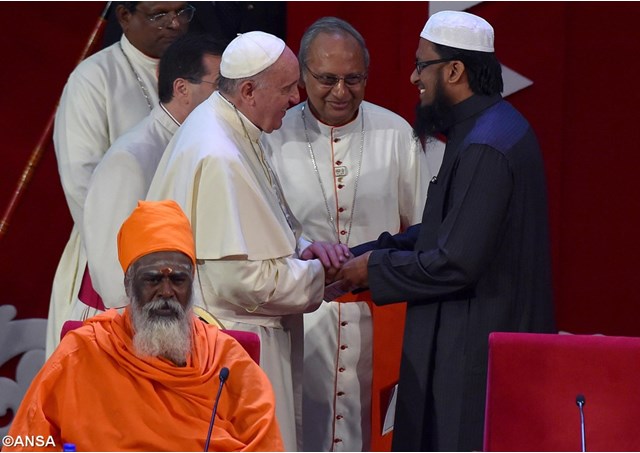 (Vatican Radio) Pope Francis on Tuesday underlined the importance of interreligious and ecumenical dialogue in Sri Lanka which is undergoing a process of reconciliation, following a 26-year-long civil war.
Speaking on the first full day of his apostolic journey to Sri Lanka, Pope Francis addressed a gathering of Buddhist, Hindu, Muslim and other Christian leaders, reaffirming the Church's deep and sincere respect for other religious beliefs. Philippa Hitchen reports….
Listen:
As he entered the International Congress Centre in the Sri Lankan capital, the Pope was greeted by traditional music and drumming, followed by the chanting of a Buddhist blessing by members of the country's majority religious community
Buddhist and Hindu leaders welcomed the Pope, speaking of the need for peace, reconciliation and unity in a nation still struggling to overcome the effects of the civil war. A Muslim representative also recalled the need for religious leaders to build bridges, overcome suspicion and promote peaceful coexistence between communities. He mentioned the killing of innocent people in France and Pakistan in the name of Islam, but he said "Islam has no relationship to such evil conduct and deeds".
To the spiritual leaders present at the gathering, Pope Francis said interfaith dialogue must be grounded in a full and honest presentation of our own convictions, which will help us to "see more clearly what we hold in common".  Interreligious relations, he said, hold "a particular significance and urgency" in Sri Lanka which needs healing and unity, not further conflict and division.
"It is my hope that interreligious and ecumenical cooperation will demonstrate that men and women do not have to forsake their identity, whether ethnic or religious, in order to live in harmony with their brothers and sisters…"
Speaking of the need to serve the poor and destitute, as well as those whose families were torn apart by the war, the Pope said "May the growing spirit of cooperation between the leaders of the various religious communities find expression in a commitment to put reconciliation among all Sri Lankans at the heart of every effort to renew society and its institutions".
For the sake of peace, the Pope stressed, "religious beliefs must never be allowed to be abused in the cause of violence and war.  We must be clear and unequivocal, he said, in challenging our communities to live fully the tenets of peace and coexistence found in each religion, and to denounce acts of violence when they are committed".
Pope Francis concluded with the wish that this fraternal encounter "confirm all of us in our efforts to live in harmony and to spread the blessings of peace".
Click here for the full text of the Pope's address at the interreligious and ecumenical encounter in Colombo