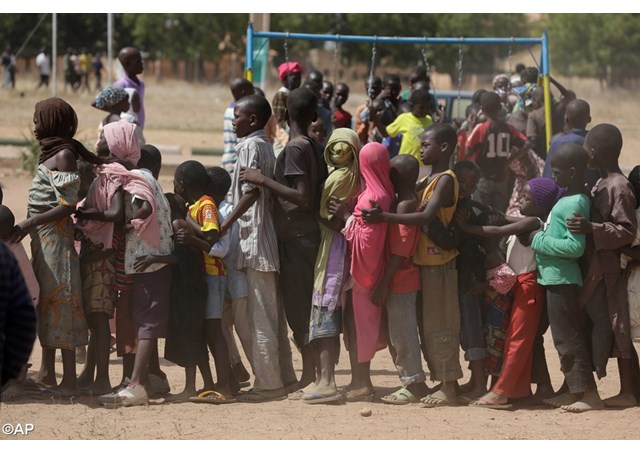 The Archbishop of Jos and President of the Nigerian Bishops Conference has told the BBC's Newsday programme that the West is ignoring the threat of the militant Islamist group, Boko Haram.
Archbishop Ignatius Kaigama said the world had to show more determination to halt the group's advance in Nigeria. He said the international community had to show the same spirit and resolve it had done after the attacks in France. His warning came after 23 people were killed by three female suicide bombers, one reported to be 10 years old.
The weekend attacks come after reports that hundreds of people were killed last week during the capture by Boko Haram of the town of Baga in Borno state. Archbishop Kaigama said the slaughter in Baga had shown that the Nigerian military was unable to tackle Boko Haram.
"It is a monumental tragedy. It has saddened all of Nigeria. But... we seem to be helpless. Because if we could stop Boko Haram, we would have done it right away. But they continue to attack, and kill and capture territories... with such impunity," he said.
The UN Secretary-General, Ban Ki-Moon, said he was appalled by reports of the killings in Baga and condemned what he called "the depraved acts of Boko Haram terrorists". The Nigerian military has said it is trying to retake the town but has given few details about the operation. On Saturday, it said it had successfully fought off Boko Haram fighters trying to capture another major north-eastern town, Damaturu. 
(BBC)