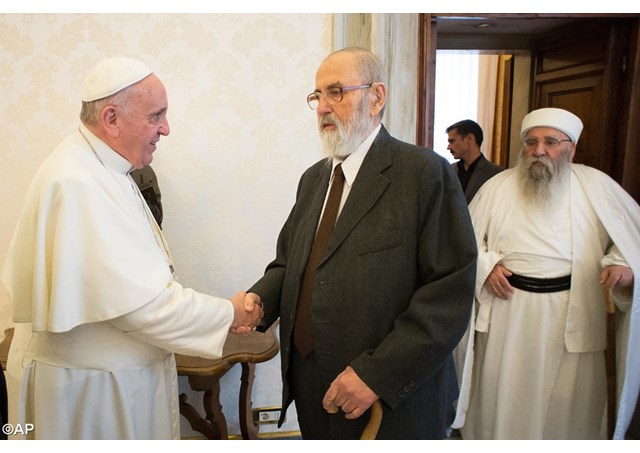 Pope Francis on Thursday received a delegation representing the Yazidi people at the Vatican Apostolic Palace.
The Yazidi, along with Christians and other religious minorities have been facing violence, persecution and displacement by the Islamic State in the recent months. There are almost 1.5 million Yazidis worldwide, half a million of whom live in Iraq. The rest live in Turkey, Georgia, Armenia, and in diaspora in many other countries.
According to Fr Federico Lombardi SJ, director of the Holy See Press Office, the delegation was led by the head of all Yazidi, Tahsin Said Ali Beg, and their Supreme Spiritual Leader, 'Baba Sheikh', Skeikh Kato; both who reside in Iraqi Kurdistan. Three other representatives of the Yazidi of Northern Iraq, Georgia and the diaspora in Germany, were also part of the delegation.
"The Delegation thanked the Pope – with one member of the delegation referring to him as 'father of the poor' - for his support of the Yazidi in this time of persecution and suffering." Fr. Lombardi said in his statement.
"They informed him on the situation of almost 5,000 Yazidi women reduced to slavery by ISIS, and highlighted the good relations among the Yazidi and Christians as well as their mutual solidarity."
The Holy Father in turn assured the delegates of his spiritual closeness and his support in this time of trial, hoping that justice and peace may soon be restored for the Yazidi, as well as for all minorities who face discrimination and violence.
The meeting that took place in the private library of the Vatican Apostolic Palace lasted for over 30 minutes.