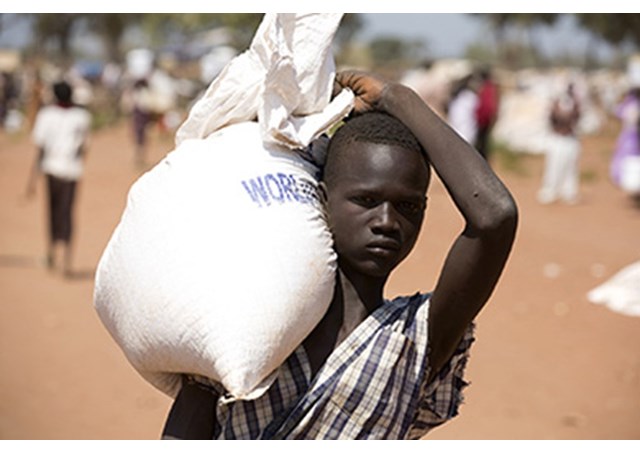 (Vatican Radio) December 15 marks the one year anniversary of the outbreak of conflict in South Sudan.
Christian Aid is one of the Humanitarian agencies working with its partners in the three worst affected states of Upper Nile, Jonglei and Unity.
Samuel Cumpsty is responsible for Programme Development in Christian Aid's Africa Programmes. He told Linda Bordoni that over the past year, nearly 2 million people have fled their homes to escape violence, that the nation is facing the possiblity of famine in the coming months, and that there is currently no resolution in sight…
Listen to the interview:
Cumpsty says the situation is "very precarious and very concerning: the country is currently facing the world's worst food crisis". He says a catastrophe was averted this year, but that was largely due to the displaced population selling off most - or all - of their assets, and also thanks to the aid intervention that took place this year which was of a considerable scale.
However, without those assets - he says: "the communities and the individuals are of course much more vulnerable coming into this next year".
In terms of the conflict, Cumpsty says there is currently no lasting peace between the two warring parties: "there have been multiple ceasefires that have unfortunately not been kept so fears are that the conflict will resume now that the rainy season is over and transportation becomes easier".
Cumpsty says "there are still 1.7 million people - that's nearly 1 in every 7 South Sudanese who have been displaced. Almost half of those have sought refuge in neighbouring countries while the rest have been displaced within South Sudan, and the conditions for their return do not exist".
He says there is sporadic conflict in some areas "which is leading to further displacement and tension with indigenous communities and the situation is very volatile for them so there continues to be displacement".
In order to avert a foreseen humanitarian catastrophe, Cumpsty says that we need for both parties to reach a political solution and to "to put down their weapons and to agree for a peaceful process" as well as "to arrange the conditions for the returns of the internally displaced people - that is the primary condition".
However he says that "we are aware the situation is not going to change in the next couple of months so we do need to prepare for the coming year" as there are very high levels of malnutrition: "in some areas there are 1 in 3 children who are malnourished which is levels we see during a famine, in some areas it is as high as 1 in 2" he says.
Christian Aid's appeal is to the international community "to bring its support to all parties to end violence and respect peacekeeping agreements as well as ensure there is humanitarian access" to the areas in concern.
As far as support from donors and governments is concerned - Cumpsty says - the appeal is for "funding to be made available because there is a shortfall of  an estimated 400 million dollars to be able to reach the food security needs of these displaced peoples".