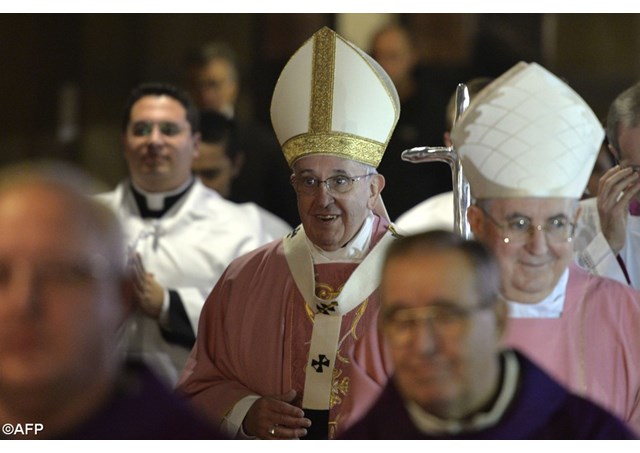 (Vatican Radio) Pope Francis on a Sunday visited the Roman parish of San Giuseppe all'Aurelio, in the suburb of Monte Spaccato. The Holy Father arrived early for the visit, and immediately met with some of the children of the parish, who help up banners wishing the Pope a happy birthday, since he turns 78 on Wednesday.
During the encounter, he spoke about his own experiences with Jesus as a child. He also spoke about his own First Communion 70 years ago.
After meeting with the children, Pope Francis had the opportunity to meet with members of the Roma community, as well as members of the parish who are sick, and with families who had children who were baptized within the last year, mentioning to them that he himself had been baptized on Christmas Day in 1936. The Pope then heard the Confessions of several members of the community.
Pope Francis concluded his visit to the parish with the celebration of Holy Mass for the Third Sunday of Advent.
During his homily, the Holy Father said that Gaudete Sunday is known as the "Sunday of joy," and said that instead of fretting about "all they still haven't" done to prepare for Christmas, people should "think of all the good things life has given you."
Pope Francis said it "hurts to see Christians with a bitter face, restless with bitterness because they are not at peace," adding that "saints have the face of joy," and noting that no one has ever seen a  saint with "a sad face."
He said that Christian joy comes from prayer, and from giving thanks to God, and is a serene peace, which exists even in times of suffering.
The Pope then reminded the congregation Jesus wishes us to bring this joy, these "glad tidings," to the poor: those with spiritual and material needs, the many people who are anxious about family problems.
"Bring them peace," Pope Francis said. "Bring the anointing of Jesus, the oil of Jesus, which does so much good, and consoles the soul."
At the end of Mass, Pope Francis returned to this theme.
"Do not forget joy," he said before leaving the church. "Give thanks to God, and bring help to those in need."