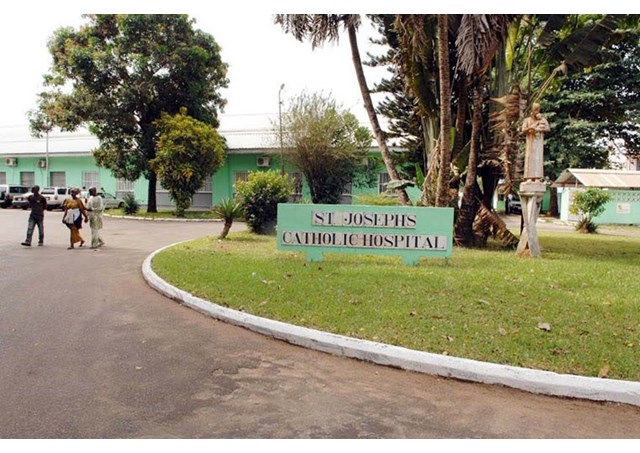 St. Joseph's Catholic hospital of Monrovia, Liberia, which closed down services in August after the death of many of its staff due to Ebola has re-opened its doors to patients. The hospital is re-opening for service at a time when the epidemic appears to be slowing down. In spite of this glimmer of hope, there are still many challenges to be overcome in order to avoid new flare-ups of Ebola.
According to the Italian online magazine, "Servizio Informazione Religiosa," the announcement to reopen St. Joseph's hospital in Monrovia, the capital of Liberia was made by the American Catholic organisation, Catholic Relief Services (CRS) which has helped the hospital restart services. 
Eight members of staff at St. Joseph's hospital died in August this year, after they attended to patients who presented themselves with Ebola. At the time, the hospital was unprepared for the disease hence the tragic consequences. Among those who died are a sister of the Immaculate Conception, Sr. Chantal Pascaline Mutwameme together with three missionaries of St John of God Brothers who include the Spanish priest Fr. Miguel Pajarea. The latter was the Superior and Chaplain at the hospital. Fr. Pajarea died in Madrid, Spain after being evacuated from Liberia. Others who succumbed to the disease include hospital administrator, Brother Patrick Nshamdze and Brother George Combey who was a pharmacy technician. Five lay co-workers also died. These include three women and two men.
The news of the deaths and the eventual closure of Saint Joseph's hospital came at the peak of the Ebola world-wide panic. The closure of St. Joseph's and many other clinics in Liberia have had a devastating toll on the country's health delivery system. Other diseases are now said to be on the increase.
The re-opening of St. Joseph's Catholic hospital in Monrovia will be welcome news for many Liberians. Liberia is at a stage where it is facing encouraging signs of hope that are coupled with real difficulties. Analysts say this could now be the start of a new and second phase.
The number of infected persons to date stands at more than 17, 100. There have also been 6, 070 reported deaths as a result of Ebola. The epicenter of the disease continues to be concentrated in the three West African countries of Guinea Conakry, Sierra Leone and Liberia.
Senegal has had one case which was quickly contained with the recovery of the patient. Nigeria had twenty (20) cases. Of these twenty, eight (8) persons died. Senegal and Nigeria have since been declared Ebola-free.  Seven (7) people have died of Ebola in Mali. The first death was that of a two (2)-year-old girl brought from neighboring Guinea to stay with relatives. An Islamic cleric also died in Bamako, Mali. He transmitted the disease to at least five people who have since died.  Mali seems to have managed to limit the extent of the outbreak. There have also been a few cases of infections outside Africa i.e. in the United States and in Spain.
The number of suspected Ebola cases seems to be stabilising. The Coordinator of the International Federation of the Red Cross in Monrovia, Peter Schleicher says that although new cases are becoming less, isolated rural areas still pause a significant challenge. In other words, the "emergency phase" is almost over but the risk of an unexpected flare-up remains. This has happened three times in Guinea. Therefore there is no room for complacency. The most important aspect of this second phase is to prevent new infections. The prevention of the spread of Ebola will give authorities in Liberia, the needed opening to focus on remote regions where often one infected person returning from a funeral can transport and cause a series of new infections.
What is reassuring is that real progress in the health sector is being achieved. Things have improved and more people now have a greater chance of accessing a healthcare facility that will treat Ebola. Corpses are now handled quickly and as per required safety standards. Having said that, authorities believe there is still work to be done.
Challenges that still need to be confronted include poor health infrastructure in most parts of Liberia; stigma towards Ebola survivors and the prevalent denial of the disease among some citizens. In the cities, notwithstanding the progress made, the greater challenge comes from dealing with Ebola in densely populated areas.
Another urgent emerging need is for Ebola-affected countries to begin to plan for the post epidemic recovery.
(Fr. Paul Samasumo;  e-mail: engafrica@vatiradio.va