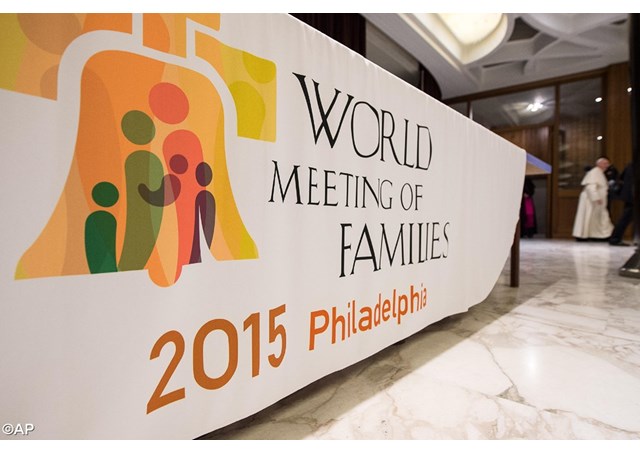 (Vatican Radio) Pope Francis says that families cannot be categorized according to ideological concepts: "we cannot speak of conservative families or liberal families. Family is family!"
In a letter, on Wednesday, to Archbishop Vincenzo Paglia, President of the Pontifical Council for the Family, the Pope looked ahead to the World Meeting of Families scheduled to take place in Philadelphia in September 2015.
Recalling the fact that Pope Emeritus, Benedict XVI, had announced the venue of the 2015 gathering at the conclusion of the last World Meeting of Families, Pope Francis pointed out that the theme of the meeting is "Love is our mission. The family fully alive" and said he looks with trust and hope towards the upcoming event of grace in which, "if God wills", he will take part.
The mission of the Christian family – the Pope said – is today as it was yesterday, to announce to the world the love of God through the strength of the Sacrament of Marriage.
And recalling the work of the recent Extraordinary Assembly of the Synod of Bishops on the Family on the theme "Pastoral Challenges to the Family in the Context of Evangelization", the Pope said that the Synod Fathers pinpointed the most urgent challenges faced by the family in contemporary society. "In reality – he said – we cannot categorize a family according to ideological concepts. We cannot describe a family as 'conservative' or as 'liberal'. Family is family!"
"The values and the virtues of the family, – Pope Francis said – its essential truths, are the cornerstones upon which the family nucleus rests, and they cannot be put into discussion".    
And calling upon the faithful to examine their lifestyle which he said is "always exposed to the risk of being contaminated by a modern mentality of individualism, consumerism and hedonism", the Pope said the aim is "to always regain sight of the master path, and to live and be witnesses of the greatness and the beauty of marriage and the joy of being and of creating a family".
The indications provided by the Synod's Final Report, and those that guide us in our journey towards the next Ordinary Assembly in October 2015 – the Pope said – invite us to continue in our commitment to announce the Gospel of marriage and the Gospel of the family, and to experiment the pastoral proposals within the social and cultural context in which we live.
He said the challenges of that context push us "to widen the spaces of faithful love which is open to life, to communion, to mercy, to sharing and to solidarity".
Concluding, Pope Francis invited married couples, priests, parish communities, movements and associations to allow themselves to be guided by the Word of God upon which the very foundations of the Christian family rest.