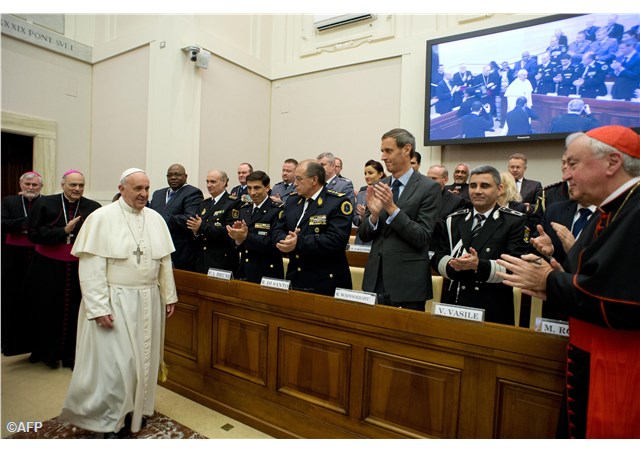 (Vatican Radio) Pope Francis has sent a message to police chiefs and Church representatives from across the world gathered in London this week for a Conference aimed at developing strategies to combat human trafficking. The guiding principle of the so-called Santa Marta Group, which first met in the Pope's residence here in the Vatican last April, is always to keep the welfare of trafficked victims at the heart of all law enforcement. 
The conference, which takes place in London on December 5th and 6th is organised by the Bishops' Conference of England and Wales together with the Metropolitan Police Service and the British Home Office. In his message to participants, the Pope says their efforts to combat trafficking and care for survivors "are especially important because of the hidden nature of this crime.  We must never forget, nor may we ignore, the suffering of so many men, women and children whose human dignity is violated through this exploitation". 
The London conference comes just 3 days after an unprecedented gathering of faith leaders and other experts with Pope Francis here in the Vatican to sign a joint declaration against modern slavery. Among the participants in that encounter was Gary Haugen, founder and president of the Washington based International Justice Mission working to stop slavery, trafficking and other forms of violence and abuse. He talked to Philippa Hitchen about the vital role faith leaders play in the struggle to bring an end to this scourge which the Pope described as 'an absurd evil' and 'a crime against humanity'…
Listen: 
Haugen says the International Justice Mission was founded to protect the poor from the everyday violence of forced labour, sexual abuse, police abuse and land theft. He says the organisation works to rescue individual victims and provide longerm restoration programmes, but also to bring criminals to justice and train local law enforcement officials about protection from exploitation....
Commenting on the Vatican meeting, Haugen says those religious leaders have tremendous influence across the world and they're making clear that slavery is still a problem today.....the new Global Slavery Index, he notes, puts the figure at over 35 million people in slavery today and the leaders are saying that the moral imperative from our faith traditions is to make sure we don't allow it to continue...
Talking about the practical consequences of the joint declaration, Haugen says the most important thing is to make sure that laws against trafficking are being enforced......he says it's the role of believers, especially in the Christian tradition, of giving voice to the weakest and most vulnerable...