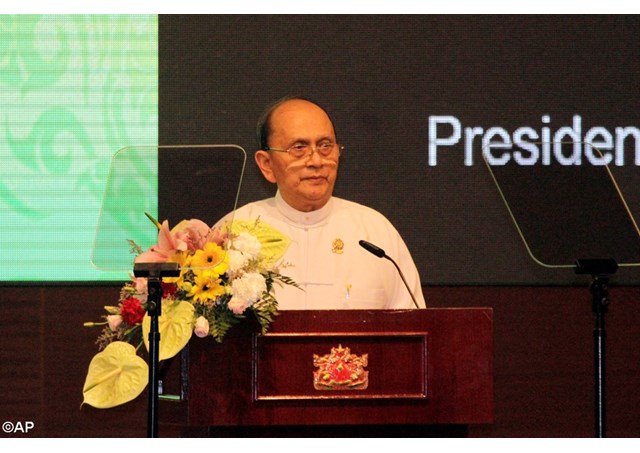 Myanmar's President Thein Sein approved a controversial religion and family planning draft law on Wednesday and submitted it to parliament amid renewed criticism from rights advocates who say it discriminates against Muslims and women in the conservative, predominantly Buddhist country.
Lawmakers will debate the legislation, which imposes restrictions on interfaith marriages, religious conversions and family size, in the next parliamentary session, according to reports.
It is part of a series of four laws on marriage, religion, polygamy and family planning proposed by a Buddhist organization called the Association for the Protection of Race and Religion, which is connected to a nationalist Buddhist monk group.
The law, in part, would require Myanmar citizens who want to change their religion to seek various bureaucratic permissions, although penalties for violators are not stated, according to a report by Agence France-Presse. It also set out rules governing marriages between Buddhist women and men of other faiths, requiring couples to apply to local authorities, who then would display a public notice of the engagements, reports said. Couples can marry only if there are no objections, but if they violate the law, they could face two years of imprisonment.
"We assume that this draft law was released because the government wants to discriminate against a particular nationality and religion," Khun Jar from the Kachin Peace Network, a Yangon-based humanitarian organization that assists civilians displaced by conflict in northern Myanmar, told RFA. "This law is one that the government should reject if it wants people to live in peace as many ethnicities and religions live together in this country. It is a shame for all Myanmar citizens that this kind of issue is being discussed by parliament."
Calls for laws aimed at protecting race and religion in Myanmar have gained momentum since violence broke out between Buddhists and Muslims in the Buddhist-majority nation in 2012 following decades under tightly controlled military rule. The violence has left more than 200 people dead and about 140,000 displaced, mostly Muslims.
Although the draft law published does not mention any specific religion, it has prompted speculation that it could be aimed at preventing Muslims from trying to coerce Buddhist women into abandoning their faith for marriage or otherwise.
Targets certain regions
Ko Ni, a legal advisor for the opposition National League for Democracy (NLD) party, told RFA that the bill was discriminatory.
"This kind of law should be for the entire country, but it is [targeting] certain regions of the country," he said, implying that the policy was designed for ethnic Muslim Rohingya families who live in western Myanmar's Rakhine state and are banned from having more than two children. "According to this draft law, people from some regions can have as many children as they want, but it's controlled for people from other regions."
Representatives from civil society groups also said the bill discriminated against women. "In this draft law, women in Myanmar can't get divorced because of the rules on sharing property," said Khun Jar. "But they can be abused by men if they want to divorce the women. I think this law doesn't protect women, and it's like women are being asked to enter into a marriage trap."
Aung Myo Min, executive director of rights group Equality Myanmar, said of the legislation, "Controlling births should be a family decision, but this is like human beings be regarded as machines."
A November 2014 report by the U.S. Commission on International Religious Freedom condemned the four race and religion bills, arguing that, if enacted, they would discriminate against non-Buddhists—especially Muslims—when it comes to religious conversions, marriages and births.
In May, New York-based Human Rights Watch urged Myanmar to ditch the proposed religion law, saying it would encourage further repression and violence against Muslims and other religious minorities.
But not everyone believes the legislation is totally negative.
"Generally, it is a good law, but it is important to know if it is needed in this country," said Tha Nyan, general secretary of the Interfaith Friendship Organization. "People convert to other religions for many reasons, but it should be based upon belief, and in this law we saw wording to prevent conversions for other reasons."
However, he said, if such a law unfairly favored men over women in such matters, it would constitute a violation of human rights.
(Source: Radio Free Asia)