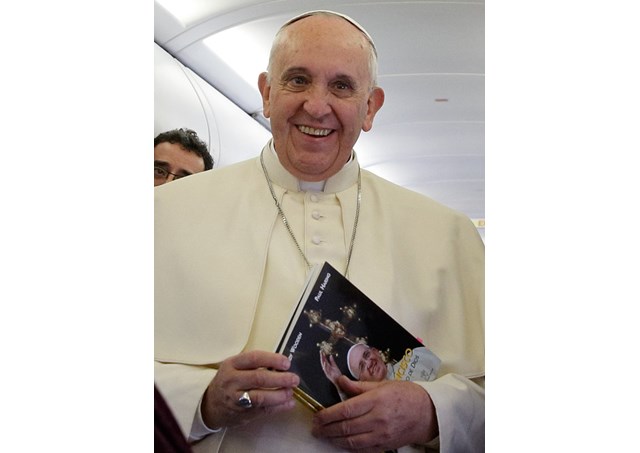 (Vatican Radio)  "Pope Francis: A Guide to God's time" is the title of a new book that explains the Church's liturgical year using the Pope's homilies and Angelus addresses. Its title was inspired by one of the Pope's homilies where he said that when we go to Mass we enter into God's time, "without looking at our watches." Written by journalist Cindy Wooden and illustrated by Paul Haring, the book is published jointly by Catholic News Service and the Vatican Publishing House (Libreria Editrice Vaticana). 
So, where did the idea come about for this book, what is its main message and themes and how does it show the Pope living what he preaches?  To find out the answers, Susy Hodges spoke to the author, Cindy Wooden.
Listen to the full interview with Cindy Wooden, journalist at Catholic News Service: 
Cindy explained that her book, whilst providing an overview of the liturgical year, also mines all the Pope's homilies and commentaries to find his secrets to prayer, happiness and holiness. In particular, she explained how it discusses the "biblical themes" which the Pope "sees as most important" for Christians living out their lives.
These "themes" include "the call to poverty, the call to humility, the call to go out, the missionary obligation……the call to an openness to the Holy Spirit, to being creative, to not be afraid to try something new and..... the dangers of gossip."  But above all, Cindy continued, "it's about the call to mercy," noting that the Pope has spoken about mercy starting from the very first Angelus address of his papacy.
Cindy's book is illustrated with 91 photos, nearly all taken by Paul Haring, and when asked to share with us her favourite photos in the book, she pointed to one which shows the Pope standing on his jeep without an umbrella getting soaking wet amidst a sea of umbrellas held aloft by the faithful at one very rainy Wednesday audience.
Her other favourite photo shows the Pope in Jordan just after the wind blew off his zuccchetta (skull cap) which appears to be floating or "levitating" about 6 inches above his head.  She also described the Pope's amused reaction when she showed him this latter photo after presenting him with a copy of her book during the return flight from Strasbourg. 
Pope Francis is a master in the use of metaphors in his homilies and Cindy praised his striking and colourful turns of phrase, saying she finds his metaphors are "so down to earth" and yet so "thought-provoking." His remarks, she went on, are "so real, so human, he seems to have this automatic connection to people."