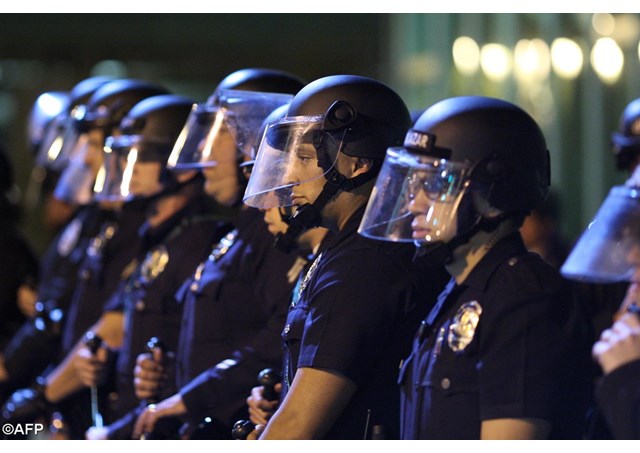 (Vatican Radio) The archbishop of St. Louis, Missouri has issued a call for peace in Ferguson where violent protests erupted after the court's decision to not indict police officer Darren Wilson in the killing of a black teenager.
Some 61 people were arrested overnight in the St. Louis suburbs on charges ranging from unlawful assembly to arson and burglary. The unrest was sparked after Monday's announcement that Wilson would not be prosecuted in shooting death of Michael Brown last August.
Brown, 18, was shot dead in Ferguson on 9 August by Wilson, leading to widespread protests in the predominantly black suburb.
"Despite our calls for peace, which Michael Brown's family have echoed, we continue to see that segments of our community have not fully renounced the tendency to lash out with antagonistic behavior and violence," Archbishop Robert Carlson said in a statement on 24 November.
Archbishop Carlson called for a rejection of the "false and empty hope that violence will solve problems."
Rather, he called for the building of "a better, stronger, more holy community — one founded upon respect for each other, respect for life, and our shared responsibility for the common good."
The archbishop also appealed the people to "pray unceasingly for peace," and to take action "only after prayer."
Archbishop Carlson issued a call to "all religious, political, social and law enforcement leaders" to ask God to make them "instruments of peace."
"We, as leaders, need wisdom, compassion, and courage in order to combat the brokenness and division that confronts us."
Acknowledging the "collective desire for justice", the archbishop warned against being blinded "by the poisonous desire for vengeance, which can be contagious and bring a desire for violence.
"We all want justice, so we should respect the integrity of our system of justice as something that aims for the common good."
"Rather than fuel the fires of hatred and division," he said, "we should strive for peace in our own hearts and share it with those around us. Violence does not lead to peace; they are opposing forces and cannot coexist."