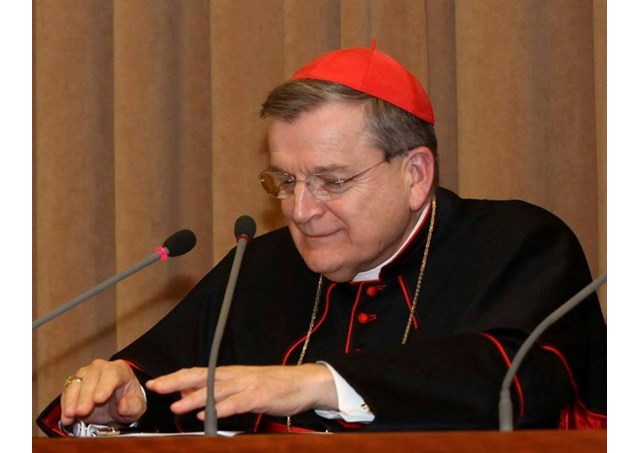 (Vatican Radio) The reform of the Sacred Liturgy "is brought about not through rupture with the past, not through revolution, but through continuity with the past, through respect for the sublime beauty of the Sacred Liturgy celebrated uninterruptedly along the Christian centuries." That was the message of Cardinal Raymond Burke, citing the teaching of Pope Benedict XVI, at the presentation of the proceedings of Sacra Liturgia 2013 – a major conference on the Sacred Liturgy that took place in Rome in June of last year.
The Sacra Liturgia Conference was organized by Bishop Dominique Rey of Frejus-Toulon in France, "to study, promote and renew the appreciation of liturgical formation and celebration and its foundation for the mission of the Church." At the book presentation in Rome on Friday night, Bishop Rey said, "It is my hope that this book will do much to assist in the liturgical formation of seminarians and others, and that it will promote a well-founded liturgical renewal amongst clergy and other liturgical ministers throughout the Church."
Following the presentation, Cardinal Burke spoke with Vatican Radio about reform of the Sacred Liturgy. "What happened after [the Second Vatican] Council was the reform was hijacked by the so-called 'Spirit' of the Council, which was not related directly at all to the actual texts of the Council Fathers," he said. "And now we're returning to those texts, which promote reform in continuity with the tradition." He spoke of the efforts of the Blessed Pope Paul VI, of Pope Saint John Paul II, and of Pope-emeritus Benedict XVI to foster the work of authentic liturgical reform, an effort that continues in the pontificate of Pope Francis.
Cardinal Burke said, "the fact of the matter is that our communion with Christ, the substance of it, is the Sacred Liturgy, and in particular, the Holy Eucharist." He continued, "Our Christian life, the heart of our Christian life, the foundation, is in that communion with our Lord Jesus Christ in His true Body and Blood through the Sacrament of the Holy Eucharist. At the same time, it is the highest expression of our Christian life, in that we unite ourselves to our Lord in His offering of His very being to the Father in sacrifice… There isn't anything more beautiful, anything better that we do, than to give worship to God as He desires us to do, and gives us the discipline in the Church to do."
Listen to the full interview of Cardinal Raymond Burke with Christopher Wells: