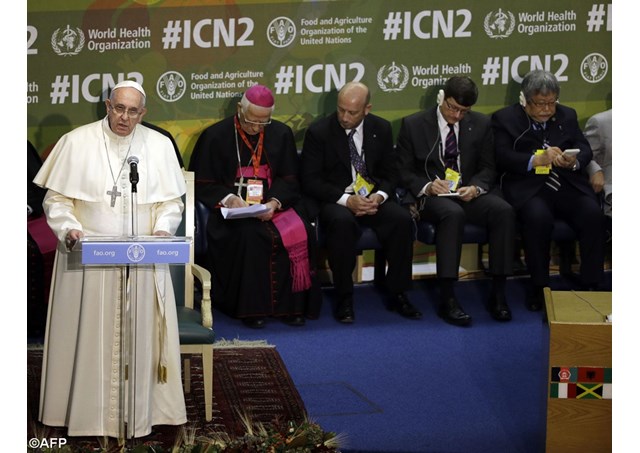 (Vatican Radio) Pope Francis travelled to the UN Food and Agriculture Organisation Headquarters in Rome on Thursday, to give an address to the Second International Conference on Nutrition taking place there this week. In his speech the Pope said, that while people speak about new rights, those who are hungry ask to be recognized as citizens with dignity.
Listen to Lydia O'Kane's report
In 1992 St Pope John Paul II came to the UN Food and Agriculture Organisation Headquarters in Rome for the First Conference on Nutrition. Twenty two years later Pope Francis was in the same hall addressing participants who included the Director General of the World Health Organisation (WHO), Dr. Margaret Chan, and the Director General of the (FAO), Professor José Graziano da Silva on the occasion of the Second International Conference.
The Holy Father recalled Pope John Paul II's words back then when he warned the international community against the risk of the "paradox of plenty", in which there is food for everyone, but not everyone can eat, while waste, excessive consumption and the use of food for other purposes is visible before our very eyes.
Unfortunately, said Pope Francis to those gathered, "this "paradox" remains relevant."
Speaking in Spanish, the Pope praised the work of this second conference which aims to study the forms of intervention necessary in the fight against hunger and malnutrition, as well as the changes that must be made to existing strategies. The Holy Father also noted the work the Church is doing on behalf of the poor and needy.
In the four point address Pope Francis made particular reference to what he called ""market priorities", the "primacy of profit", which he said were a hindrance to the struggle against hunger and malnutrition.
He also spoke about the issue of rights saying that "while we speak of new rights, the hungry remain, at the street corner, and ask to be recognised as citizens, to receive a healthy diet. We ask for dignity, not for charity, he said.
He continued on this theme stressing that "development plans and the work of international organisations must take into consideration the wish, so frequent among ordinary people, for respect for fundamental human rights and, in this case, the rights of the hungry."
The Holy Father called on states and international institutions to refer to the language of the human heart, and nurture the values of, justice, peace, solidarity and love, in a spirit of dialogue and mutual listening.
Before departing from the "Caribbean" Hall to greet FAO staff members and express his gratitude for their work, the Pope left those listening to his address with this phrase from I old man he met many years ago who said to him "God always forgives, insults, and abuses; God always forgives. The earth will never forgive. Protect the Mother earth said Pope Francis, so that it does not meet with destruction.