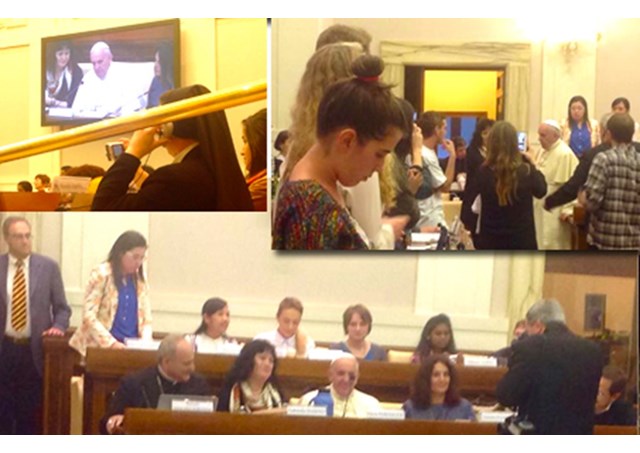 (Vatican Radio) Young men and women from all the continents and from different faith backgrounds have issued an international declaration against prostitution and human trafficking, following a two day symposium here in the Vatican. The weekend meeting was jointly organised by the Pontifical Academy of Sciences, the interfaith Global Freedom Network and the Argentinian anti-trafficking association 'Vinculos En Red'.
Speakers, including young survivors of trafficking and sexual exploitation, drew up an eight point statement of practical requirements for combatting the global trade that affects over 20 million men, women and children worldwide. These include funding and training for teachers, as well as legal and security personnel, an observatory to monitor violence against women and the criminalisation of those who buy sex and support the trafficking trade.
Philippa Hitchen spoke with a couple of the young people taking part in the symposium, 29 year old trainee lawyer Robert Colvin and 18 year old Eritrean activist  Vanessa Berhe…….
Listen:
Rob worked with the International Justice Mission in the Philippines, assisting in the prosecution of sex traffickers and the rehabilitation of victims…..he says huge inroads have been made, especially since 2006 when his organisation set up an office in Cebu….within the first four years, he says, they helped reduce the prevalence of children being trafficked by 79%....
Rob notes it's a dangerous job combatting the sex trade, as he discovered from the training and policies he had to follow….but he points to Pope Francis' words to the symposium about the need for total commitment to this task, even if that means the ultimate sacrifice…."I think that's worth it when it's motivated from a place of love, I think it can truly transform the world," he says.
Rob adds that the network created by the symposium is really promising for the future….he intends to follow up with contacts he's met during the meeting to visit the A21 campaign in Greece and the work being done in Albania, both countries which are closely linked to the problem of trafficking in the UK….
Vanessa was born and raised in Sweden by Eritrean parents and became interested in human rights work because of a journalist uncle who has been a political prisoner in Eritrea since 2001.
During her work she found out about the Eritrean refugees being kidnapped, tortured, raped, killed or held for ransom in the Sinai desert……while they are being tortured, they are given phones to call their families and pressure them for money and Vanessa is helping a journalist friend to document all these cases…
While all the stories and testimonies being shared at the symposium are very different, she notes that many of the problem and solutions are very similar……among the subjects discussed by the participants are how to push for law enforcement and make governments take responsibility for combatting such crimes……"it's like my uncle, if no-one cares, nothing's going to happen," she says, adding that Pope Francis' words have an important impact in changing peoples' mentality on these issues.
Please find below the International Declaration of young people against Prostitution and Human Trafficking:
We, young people from different countries, have mobilized ourselves to have our voices heard in condemnation of the system that has allowed people to fall into prostitution and any other type of slavery, and we have mobilized ourselves as active defenders of Human Rights, promotors for the protection of fundamental Human Rights and [some] as survivors of Human Trafficking.
The words spoken by the Holy Father Pope Francis during his visit to Rio de Janeiro for the 28th World Youth Day, on 25th of July 2013, have accompanied, guided and touched the hearts of the young people who have taken part in this Symposium and who have fought for diverse social and political causes.  At World Youth Day the Pope said "I hope there will be noise.  Here there will be noise, I'm quite sure.  Here in Rio there will be plenty of noise, no doubt about that.  But I want you to make yourselves heard in your diocese, I want the noise to go out, I want the Church to go our onto the streets, I want us to resist everything globally, everything static, everything comfortable, everything to do with clericalism, everything that might make us closed in on ourselves."
We, as human beings, are not objects that can be commercialized.  We have right and duties, and we want to exercise them on a stage of equal opportunities.  We condemn slavery because it brings about crimes against humanity and the dignity of human beings.
We are in solidarity with those who have been and are still victims.  From here we will begin to send our message to the world, calling all young people together to break the cultural paradigms that condemn people to all kinds of exploitation.  We shall not relent , we shall unite and organize ourselves, because we are convinced that by taking into account the task that each young person carries out in his or her country, by renewing our hope through this Symposium, which has been a guiding light on our path, by reaffirming our commitment to empower citizens who have become vulnerable, by listening to them and helping them we are convinced that we will be able to keep them from falling prisoner to the network of Prostitution and Human Trafficking.
We, the young people, declare that:
• The State must implement training programs for different types of public employees and must make people who work in both justice and security aware [of these  issues].
• The State must protect the Human Rights and must provide all necessary assistance to the victims of Prostitution and Human Trafficking.
• It is fundamental that States provide the economic means to prevent and fight  against Prostitution and Human Trafficking in a concrete and effective way.
• The creation of an observatory and/or an alert system is necessary to demonstrate the normalization of violence against women which originates from the over-eroticization of violence and its orientation towards women in the media.
• Education is a means of social and cultural transformation.  For this reason creating training campaigns for teachers and professionals is of fundamental importance  for giving them the tools to provide young people with an adequate knowledge of  sex, because sex covers a wide and complex field, of which they are ignorant.  It  is this lack of knowledge that provides exploiters with one of their modes of control.  Another core objective of education is to make sure that young men do not  purchase sex, because this makes these same men part of the objectification of  human beings and the merchandizing of their bodies.
• It is of primordial importance to create safe spaces for women who are at risk  and to create spaces where they will find adequate support and that these spaces  respect the individual progress of every women.
• It is essential to criminalize those who purchase sex and criminalize Human trafficking in all its forms.  Due to the acceptance of Human trafficking, in whatever  form it might take, it has become possible for traffickers to exploit human beings. We should not condemn victims, but condemn the chain of exploitation in its entirety.
• We should urge States, Institutions, civil society and all citizens of the world to  promise to continue investigating and fighting Human Trafficking.
We, the young, maintain the premise that all men and women of the world are equals  and are free, and we maintain that we must join forces to rescue and empower those  who have been victims of Trafficking or any other type of slavery and join forces to  restore their human rights.