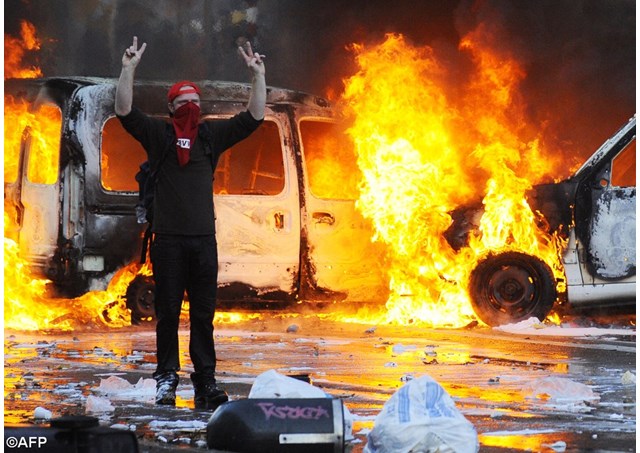 (Vatican Radio) A tense calm has returned to the Belgian capital, after some 50 people were injured and 30 were detained in clashes on Thursday between riot police and anti-austerity protesters in the largest labour demonstration in years.
Police used tear gas and water cannons against violent protesters, including steelworkers and teachers, in central Brussels. Several vehicles were set alight by furious demonstrators, who also hurled stones and fireworks at security forces.  
Listen to the report by Stefan Bos:
The clashes came after more than 100,000 people marched in what was one of Belgium's biggest labour protests since World War Two.  
Belgian unions, as well as the socialist, green and extreme left parties, are outraged that the new government plans to raise the pension age, from 65 to 67, by 2030.
Workers are also against government plans to freeze wages and make public service cuts to meet European Union targets.
WIDER CONCERNS
The unrest has underscored wider concerns about what critics view as the EU's interference in domestic affairs. 
Prime Minister Charles Michel says cuts of as much as $13.6 billion are essential to keep the budget deficit within EU rules.  
Marie-Helene Ska, secretary general of the union CSC, said the government should look elsewhere for that money.
"We don't contest that they have to find 11 billion euros ($13.6bn). But we've been saying for a long time that it's possible to find this money elsewhere, rather than in the pockets of the workers," she told reporters. 
Government-led talks with unions and employers continue.  
Analysts warn the new government is likely to face tensions between Belgium's Flemish-speaking north, which tends to be more conservative, and a French-speaking, more liberal south.
Protests against its policies are part of a month-long campaign that is to end with a national strike on December 15.