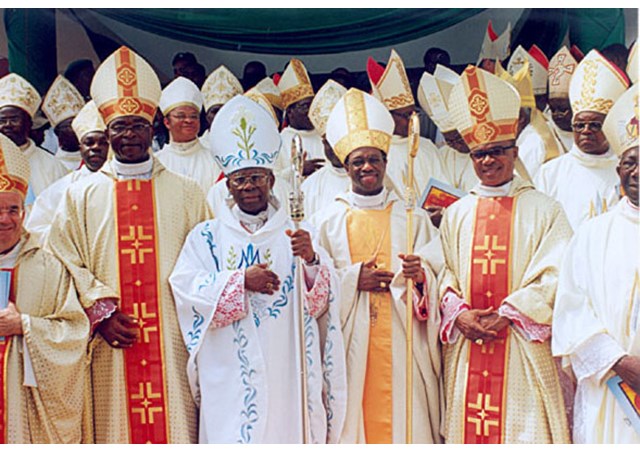 All the fifty-five (55) Bishops of Nigeria's archdioceses, dioceses and vicariates, in the country, as well as scores of the Catholic faithful are expected to attend overnight prayers to pray for the nation from the evening of Thursday, 13 November 2014, to the early hours of Friday, 14 November 2014. The prayer vigil will be held at the National Christian Centre in Nigeria's capital, Abuja. These national prayers will feature, a candle-light procession, recitation of the Rosary, celebration of the Holy Mass, Scripture readings, various devotional services and the adoration of the Eucharist.
Nigeria's Catholic News Service, says that the President of the Catholic Bishops' Conference of Nigeria (CBCN), Archbishop Ignatius Kaigama has called on all Catholics in the country to come out in large numbers and participate actively in the overnight "National Prayers for the Country."
The vigil prayers scheduled for next week, will be the culmination of prayers that have been going on in Nigeria following an appeal for prayers by the Bishops of Nigeria made in a letter signed by the President of the Bishops' Conference, Archbishop Kaigama in June, this year. Since then, aided by monthly prayer-intention guidelines, the people have been praying over the last six months, for among other things, the safe release and return of the abducted and kidnapped people of Nigeria; those who have suffered and are suffering violence because of the crisis in Nigeria; prayer for security agents who have lost their lives, limbs and property in the service of their fatherland.
In June, when the Bishops urged the people to start praying for the nation, they said that, while commending the faithful for praying for peace to return to the country, "We however believe that we could do a little more as one Church in Nigeria through a synchronized effort at prayer just as Catholics do the world over, with the Angelus."

(Catholic News Service of Nigeria)
e-mail: engafrica@vatiradio.va