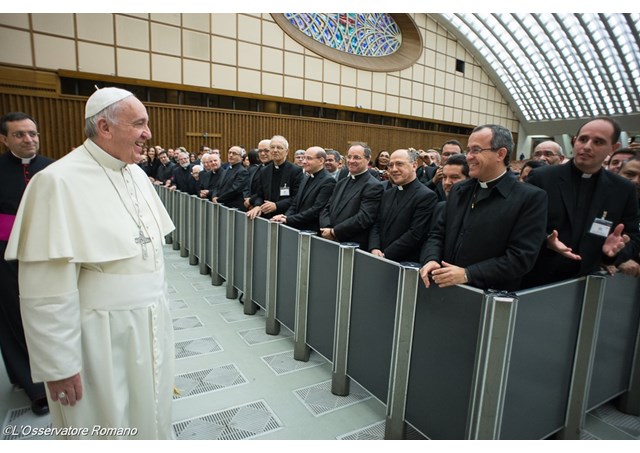 (Vatican Radio) Pope Francis on Wednesday spoke about the importance of fairness and accessibility in the proceedings of Church Tribunals trying to adjudicate the validity of marriages.  
He made his remarks before his General Audience, when he briefly greeted participants of a course offered by the Tribunal of the Roman Rota on "Instructing a Case for the Dispensation of a Marriage 'Super rato et non consumato'"  -valid, but unconsummated marriages - which can be dissolved under certain conditions according to Church law.
"In the Extraordinary Synod [on the Family], There was talk about procedures, processes, and there was a preoccupation for streamlining the procedures, in the interest of Justice," Pope Francis said. "Justice: For decisions must be just, and because there must be justice for the people who are waiting."
He also spoke about the Commission  for the study of the reform of the matrimonial processes in canon law, which was announced in September, which he said is designed to hope streamline the process: "A path of justice, and also charity, because there are so many people who need a word from the Church about the marriage situation – be it a yes or a no – because this is just."
He said some processes are "so long and so weighty" that people become "discouraged" and leave.
He then provided an example.
"The inter-Diocesan Tribunal of Buenos Aires had – I do not remember, but I believe –15 dioceses in the first instance. I think the furthest was 240 kilometers away! …It is impossible to imagine that ordinary people…can go to the Tribunal: They would need to go on a trip, missing days of work, and there is also the cost…so many things…They say: 'God understands me, and I go on like this, with this weight on my soul.' And Mother Church must judge and say 'Yes, it is true, your marriage is null' or 'No, your marriage is valid'. But [she must] make a judgment and tell them, so that it is possible to go forward without this doubt, this darkness in the soul," said the Holy Father.
Pope Francis also warned about treating the Church's annulment process like a business, again providing an example.
"There have been public scandals," the Pope said. "I had to dismiss a person from a Tribunal some time ago, who said 'Give me $10,000 and I'll take care of both processes:  the civil and the ecclesiastical'. Please, not this!"
He said the Synod also had proposals about the costs of the process, adding "when you attach economic interests to spiritual interests, it is not of God."
He concluded by reminding the students to always look to the "salus animarum" [the salvation of souls], adding this is not necessarily found outside of justice, but "indeed, with justice."