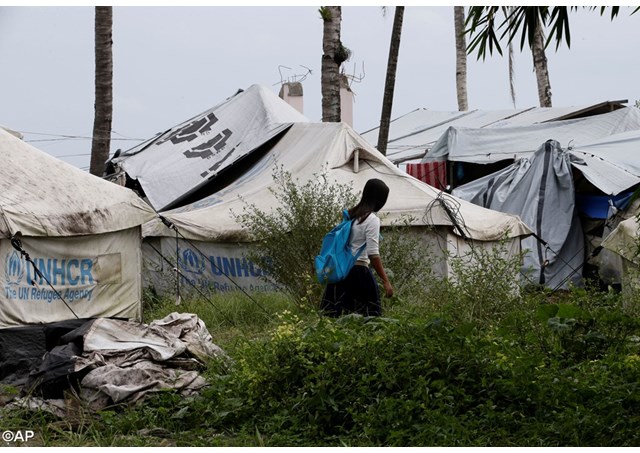 (Vatican Radio) One year after Typhoon Haiyan struck the Philippines—and despite major reconstruction efforts—thousands of people in the most-affected regions continue to live in temporary shelters.
The typhoon hit the island nation on 8 November 2013, killing more than 8,000 people. More than 500,000 homes were destroyed, along with major infrastructure. An estimated 11 million people were affected.
"The destruction was absolutely enormous," said Michael Casey, executive director of Development &Peace, the Canadian member of Caritas Internationalis. Casey was in the Philippines recently with a delegation that included Archbishop Michael Miller of Vancouver and Bishop Jean-Louis Plouffe of Sault Ste. Marie.
"The community is starting to be rebuild," reported Casey. "There's still a lot of people in temporary shelters, like in the tent camps that were set up."
Listen to the interview with Michael Casey:
The delegation visited the nine Filipino dioceses most affected by the typhoon and those to which D&P has committed its support through a three-to-five-year program, focused on the "permanent rebuilding of communities", namely housing and providing livelihood support.
"Many of the communities were coastal communities, fishing (was) their livelihood," explained Casey. "Their fishing facilities were destroyed and so we've been assisting and replacing some of those."
While D&P has built 1,600 homes to date, Casey signaled that one challenge in the reconstruction is ironically a security measure that has been put in place to avoid such large-scale disasters in the future.
'NO-BUILD ZONE'
"The government of the Philippines had put in what they call a 'no-build zone' along the coastal areas. This is as a disaster-mitigation strategy, which means that you can't rebuild where houses were formerly built on … the coastline," he said.
So, people continue to live in temporary camps "while there's discussion going on about finding land for them to be able to re-locate," he said.
In some cases, the local or provincial governments had provided land for rebuilding that was too distant from the shoreline.
"You're looking at a community of fishermen that have to…commute 10km just to get to their boats, to go out to fish. It was really problematic," Casey said. "So there is a lot of questioning by the communities about this … no-build zone because it has effectively deprived them of the areas where they used to live."
The problem of providing land for reconstruction is exacerbated by the fact that "land is a very scarce and precious commodity in the Philippines— it being an island nation—with a very large and growing population," Casey underlined.
Another D&P priority is the re-establishment of community life. Casey said in the communities he visited, the local church, "in various degrees of repair or disrepair…was always a gathering point for the people and a central point for community life."
D&P's programming also includes psycho-social support and post-traumatic counselling, aimed at helping people through their grief. He said his delegation observed how one community organized a healing ceremony to help people cope with having lost family members in the disaster.  
RESILIENCE AND RECOVERY
Despite the major loss and destruction, Casey said he was struck by how "relatively quickly people resumed normal life" and by "the resilience and the recovery of the Filipino people". Nearly one year later, children are back in school and people are working, he said.
However, Casey has also observed happen in the Philippines what happens in most major disasters: the urgent needs of victims are well met immediately following a disaster, but the world's attention then quickly shifts elsewhere.
With all the significant reconstruction ahead, he lamented, "there's no longer the major media looking at what is going to be a much longer process."
Report and interview by Laura Ieraci