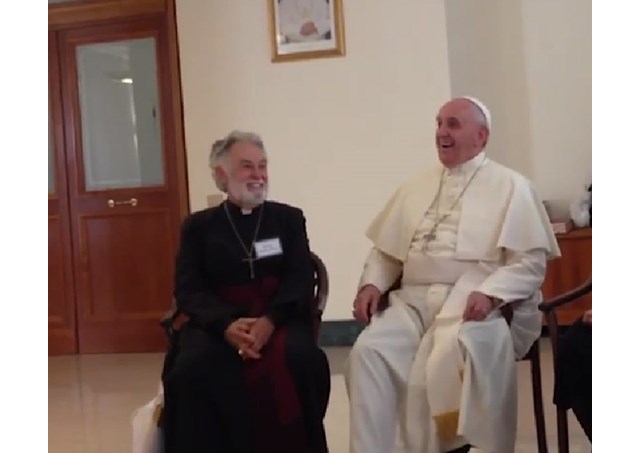 (Vatican Radio) In a private meeting with leaders of the inter-denominational Ark Community, Pope Francis said Christians should not wait for theologians to reach agreement, but should walk, pray and work together now. His words came during an October 10th encounter at the Casa Santa Marta with members of the community founded by Evangelical leader Tony Palmer who was killed in a road accident last July. Palmer became friends with Cardinal Jorge Mario Bergoglio when he worked in Buenos Aires as international ecumenical officer of the Communion of Episcopal Evangelical Churches, a growing movement of charismatic and evangelical Christians seeking reconciliation between their divided communities.
Philippa Hitchen reports: 
In an i-phone recording of the meeting, published on the Ark Community website, Pope Francis thanks Palmer's widow and the new leader of the community, Archbishop Robert Wise, for carrying forward the dream of walking together in communion. "We are sinning against Christ's will" the Pope says, "because we continue to focus on our differences," but "our shared baptism is more important than our differences."
While the devil, the "father of lies" divides us, the Pope continues, we are called to preach the Gospel in every corner of the earth, with the certainty that He is with us. "We each have in our Churches excellent theologians," the Pope says, "but we shouldn't wait for them to reach agreement."
The Pope goes on to talk about spiritual ecumenism where Christians are being persecuted and killed in the Middle East, Africa or elsewhere, not because they are Pentecostal, Lutheran, Anglican, Catholic or Orthodox but "because they believe in Jesus Christ." He mentions also a Catholic priest and a Lutheran pastor who were killed on the same day by the Nazis for teaching the Catechism to children.
The Pope concludes his off-the-cuff remarks by recalling the vision of Tony Palmer to achieve his desire of walking together "so we can eat together at the banquet of the Lord."