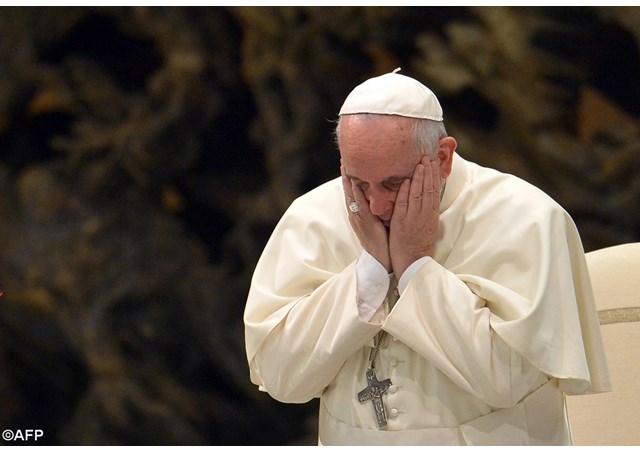 (Vatican Radio)  Pope Francis said the institution of Christian marriage has never been attacked so much as nowadays where a temporary or throw-away culture has become widespread. He said marriage should not be seen just a social rite and urged priests to stay close to couples and especially children experiencing the trauma of a family break-up. The Pope was replying to questions put to him on a range of topics during an audience with more than 7000 pilgrims belonging to the Schoenstatt movement, an international Marian and apostolic organization that is celebrating the 100th anniversary of its founding in Germany.  The movement now embraces members, both lay and clerics, from dozens of nations around the world.
Listen to this report by Susy Hodges:
Mistaken views about marriage and its true meaning, our temporary or throw-away culture, the need to be courageous and daring, Mary's missionary role, the disunity of the Devil and why the concept of solidarity is under attack.  These were just some of the wide-ranging issues which Pope Francis spoke about in his off-the-cuff remarks during the question and answer session with the Schoenstatt pilgrims held in the Vatican's Paul VI Audience Hall on Saturday.
Asked about marriage and what advice he can offer to those who don't feel welcome in the Church, Pope Francis stressed the need for priests to stay close to each one of their flock without becoming scandalized over what takes place within the family.   He said a bishop during the recent Synod on the family asked whether priests are aware of what children feel and the psychological damage caused when their parents separate? The Pope noted how sometimes in these cases the parent who is separating ends up living at home only part-time with the children which he described as a "new and totally destructive" form of co-habitation.  
He said the Christian family and marriage have never been so attacked as they are nowadays because of growing relativism over the concept of the sacrament of marriage.  When it comes to preparing for marriage, Pope Francis said all too often there is a misunderstanding over the difference between the sacrament of marriage and the social rite. Marriage is for ever, he said, but in our present society there is a temporary or throw-away culture that has become widespread.  
Turning to the missionary role of Mary, the Pope reminded people that nobody can search for faith without the help of Mary, the Mother of God, saying a Church without Mary is like an orphanage. When questioned as to how he maintains a sense of joy and hope despite the many problems and wars in our world, Pope Francis replied that he uses prayer, trust, courage and daring. To dare is a grace, he said, and a prayer without courage or daring is a prayer that doesn't work.   
Asked about reform of the Church, the Pope said people describe him as a revolutionary but went on to point out that the Church has always been that way and is constantly reforming itself.  He stressed that the first revolution or way of renewing the Church is through inner holiness and that counts far more than more external ways such as reforming the Curia and the Vatican bank. Pope Francis also spoke about the importance of having a freedom of spirit and warned against closing ourselves up in a mass of rules and regulations, thus becoming a caricature of the doctors of law.  
The theme of our throw-away society was also touched on again by the Pope in another reply when he said our present-day culture is one that destroys the human bonds that bind us together. And in this context, he continued, one word that is at risk of dying in our society is 'solidarity' and this is also a symptom of our inability to forge alliances. Pope Francis also warned about the Devil, stressing that he exists and that his first weapon is disunity.