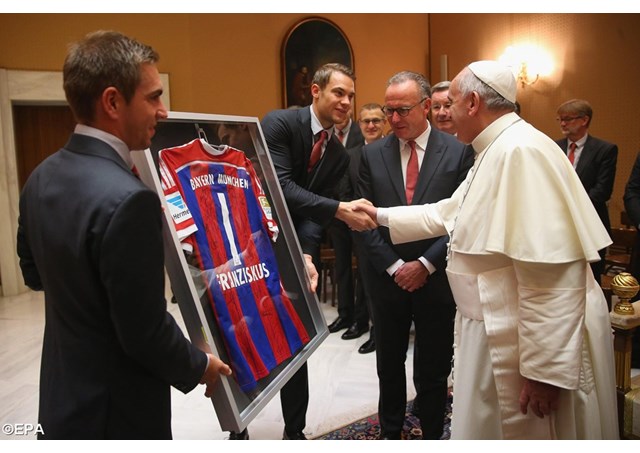 (Vatican Radio) Pope Francis on Wednesday met with members of Bayern Munich, the famous German football team. The squad was in Rome for a group-stage Champions League match with A.S. Roma on Tuesday evening, which the visitors won handily 7-1. The meeting took place in the Casa Santa Marta before the Wednesday audience.
Bayern Munich's CEO Karl Heinz Rummenigge said it was "a great honor" for the club to meet the Holy Father.
Rummenigge presented the Pope with a football signed by all the players, symbolically representing a friendly match to be played in the course of the next year. Out of the revenues from the match, the club donate €1 million to the Holy Father to use for charitable purposes ``to help people in need wherever they are in the world and regardless of their faith."
Bayern captain Philipp Lahm and Manuel Neuer also presented Pope Francis with a framed and signed original Bayern shirt bearing the number 1 and the name "FRANZISKUS." Pope Francis gave each player a rosary.
Pope Francis, a well-known football fan, congratulated the team on their victory, calling it a "wonderful" game.
"Football is good and healthy, and a good role model for children as a team sport," said Pope Francis.