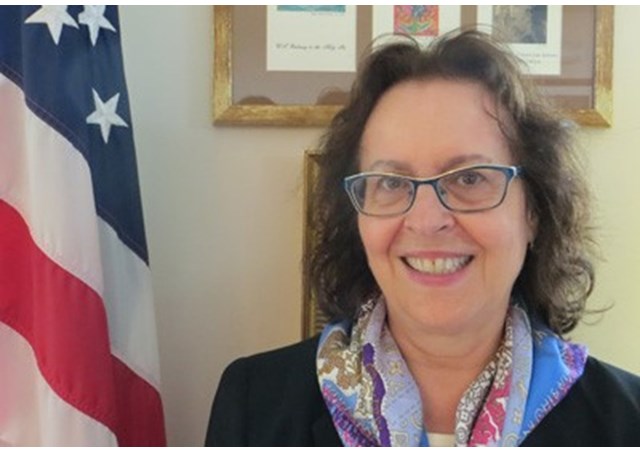 (Vatican Radio)  "We are seeing an increase in the use of religion to advance political ambitions and often as a legitimizer: an excuse for violence:"  that's according to the new Deputy Chief of Mission at the U.S. Embassy to the Holy See who arrived in Rome this past August.  And Victoria Alvarado is no lightweight in the field of faith and strategic studies. As former director of the Office for International Religious Freedom and strategic planning advisor for the Bureau of Conflict Stabilization Operations, Alvarado brings to her new post years of research into the effectiveness of partnerships between governments and faith leaders in countering violent extremism.
Alvarado is also a former director for Central America and Caribbean Affairs at the National Security Council and has served in Bangladesh, Afghanistan, Iraq, Nicaragua, Venezuela and Indonesia.
Alvarado sat down for this exclusive interview with Tracey McClure:
Interfaith childhood and career
She says her gradual orientation towards strategic security studies and religion stemmed from her interfaith family and its openness towards others.  One year, she remembers, her Jewish father and Catholic-Protestant mother shared their home with an Iranian Muslim student, his wife and three children.  "I was exposed to the concept of not only interreligious dialogue, but actually coexistence at a very early age," she affirms.
Alvarado recalls some of the period when she was stationed in Indonesia where "there was a horrible conflict between the Muslim and Christian populations and a lot of what was driving the conflict  was not religious at all."  Rather, she says, the violence was fueled by "struggles for land, for businesses – there were a number of political dynamics that were encouraging the conflict."
She says she increasingly saw the importance of religion and cites a recent study carried out by the Pew Institute which found that 80% of the world is religious to some degree.
"I saw up front that religion is an important aspect of foreign policy and national security." Having served in a number of Muslim majority nations, she says she is especially interested in Islam which she sees as a very important world religion. 
Religion in conflict prevention, mitigation
Alvarado underlines her increasing interest in the role religion can play in preventing and mitigating conflict.  Unfortunately, some people associate it with conflict, especially in recent days."  Governments and religious leaders and communities "can work together to counter violent extremism and the narratives – especially when religion is used as a tool to foment the violence," she affirms.
In an address not long after the 2001 terror attacks by Muslim extremists on the U.S., Pope John Paul II said  "A clash ensues only if Islam or Christianity is misconstrued or manipulated for political or ideological ends."   When asked if this is exactly what is happening with Islamic extremist militants like ISIS and Al Qaeda-linked groups in Syria and Iraq, Alvarado responds:
"It is unfortunate; we are seeing an increase in the use of religion to advance political ambitions and often as a legitimizer, an excuse for violence.  This is not really a new phenomenon.  We've seen this hundreds of years ago among different religions.  It's not unique to one particular religion but often, we see this dynamic when you have a dominant religion in a country and a fairly sizeable but much smaller, minority or minorities – religious minorities."
Clash of civilizations?
Asked if this has led to a clash of civilizations today, Alvarado responds, "I think that there are some people that are probably seeking that clash.  They're looking for 'religious conflict,'  but I also see that most world leaders these days are not falling into that trap."   They realize, she says, that "most of this is a distortion of religion for political and other ambitions."
Involving religious leaders in the prevention of radicalization or de-radicalization, Alvarado states, can be helpful - but by itself is not a solution.  "Religious leaders can play a constructive role if part of the narrative is based on religion, even if it's a distortion of religion."
Governments and religious leaders – a need for mutual respect, cooperation
"One of the challenges is finding ways to bring together governments and religious leaders without questioning the legitimacy of each part.  The government has its role and the religious leaders have their own role.  There needs to be mutual respect...for each other's strengths and integrity."
Alvarado admits that when religious leaders cooperate with governments, their credibility among their faithful can be jeopardized.  "That's one reason why it's important these lines of communication are respected."
Definitions count
One of the biggest challenges Alvarado stresses, is how we define "violent extremist."  "If somebody is a fundamentalist, does that mean he's an extremist?  Not necessarily at all.  And if you're an extremist, does that mean that you're going to become violent?  Not necessarily at all.  Some theories say there's a conveyor belt: if you're fundamentalist, you're going to be radicalized; you're going to be an extremist and therefore you must become violent.  Many people are fundamentalist who condemn all sorts of violence.  Just the terminology is a challenge.  What terms are we using when discussing these sensitive issues?  And, can we agree on common uses of these terms?"
Educating for peace
Popes John Paul II, Benedict XVI and most recently, Francis have all upheld the need to educate today's children to peace and to respect of the other.  There are many places today where children are taught at an early age to distrust or even hate those who are different.  Asked where is there room for improvement in the area of education for peace, Alvarado answers:
"Everywhere.  I don't think it's ever enough and it starts from birth on.  It's the core of the family as the starting point.  Public education as well is important. I think, finding ways where communities actually build together instead of …fighting, or there are tensions over land or water or whatever issue.  There are ways to find, to encourage mixed communities to build together.  That's a way that can potentially help these mixed communities mitigate or prevent violence.  If they can see the value in building community and that's more important than destroying one another - because by destroying one another they're destroying themselves.  I think what would be a very helpful move in addition to the education, is providing some kind of development assistance to these communities.  To encourage them to actually operationalize their commitment to live together."
U.S. relations with Holy See
Speaking of her country's relations with the Holy See, Alvarado  says "We have common concerns.  We might take different approaches and that's fine.  When I see two allied states or friendly states, they're always going to have different views on certain issues," but on religion and security, "we do have common ground."  I think the integrity and legitimacy of the Holy See is very helpful in putting forth these messages: of the importance of not only tolerating one another, but actually coexisting and embracing diversity as something that builds societies.  Not something just to accept, but something that makes the world a better place."