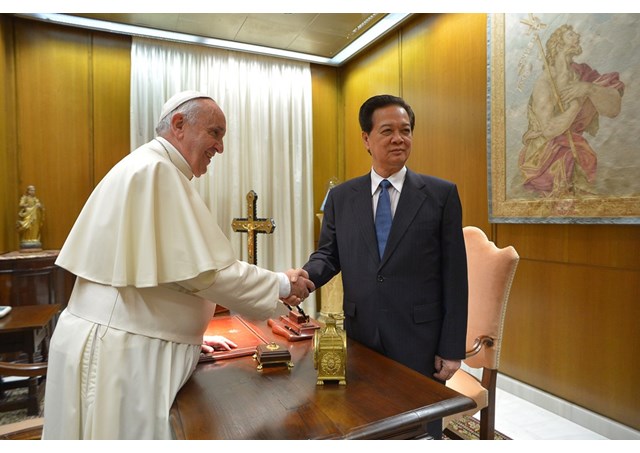 (Vatican Radio) Pope Francis on Saturday received in audience the Prime Minister of Vietnam, Nguyễn Tân Dũng. It was the Prime Minister's second visit to the Vatican.
Following the meeting, the Holy See released the following statement:
Today His Holiness Pope Francis received in audience the Prime Minister of the Socialist Republic of Vietnam, His Excellency Mr Nguyễn Tân Dũng. Subsequently, the Prime Minister met with the Secretary of State, His Eminence Cardinal Pietro Parolin, who was accompanied by His Excellency Archbishop Dominique Mamberti, Secretary for Relations with States.
In the course of the cordial conversations, the Parties expressed their satisfaction at today's meeting, which marks an important step in the process of strengthening bilateral relations between the Holy See and Vietnam, this being the second visit of Prime Minister Dũng to the Vatican, following that of 2007. The Church's commitment to contributing to the development of the country, thanks to its presence in various areas which benefit society as a whole, was highlighted. In this context, sincere appreciation was expressed for the support given by the Authorities to the Catholic community in keeping with the developments sanctioned by the Constitution of 2013 with regard to religious policy, as well as for the assistance given to the non-resident Papal Representative of the Holy See to Vietnam in the discharge of his mission, which is aimed at promoting relations between Church and State with a view also to the common objective of diplomatic relations. The Parties then discussed some issues which, it is hoped, will be further examined and resolved through the existing channels of dialogue.
Finally, there was an exchange of views on some current regional and international issues, with particular reference to initiatives aimed at promoting peace and stability in the Asian continent.