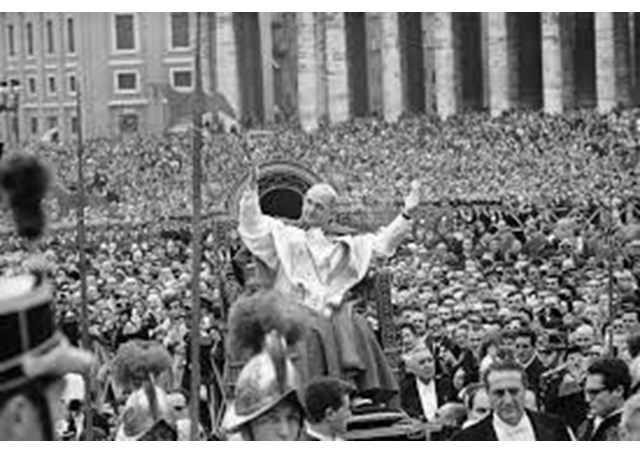 (Vatican Radio)  Pope Paul VI, Giovanni Battista Montini, was elected as Successor of Peter on the 21st June 1963 and  died on the 6th August 1978. He was a man full of contradictions, baffling yet brilliant, austere yet personable, enigmatic yet firm in his authority who found  himself  with  the  delicate task of closing and implementing the Second  Vatican Ecumenical  Council.
Listen to a programme presented and produced by Veronica Scarisbrick:
According to American Cardinal William Wakefield Baum, who was created cardinal by Paul VI, this holy man was not always understood: "He was very gentle and  he was a gentleman, perhaps the world didn't quite understand him".
The world  Paul VI lived in was a changing world, the same inhabited by America's first Catholic President, John Fitzgerald Kennedy with whom he'd met less than two weeks into his pontificate. But  while the world the young American President represented was modern, vital and projected into the twenty-first century, the newly elected pope's world was deeply anchored in the past, rife with pomp and circumstance.  A situation Paul VI  was determined to change, when in a symbolic gesture, he cancelled one of the Catholic Church's century old traditions by giving away the triple crown. And again when he brought it upon himself to become the first pilgrim pope.
The  decade and half of his pontificate was marked by a string of tragic events that were to change the face of the world: the assassination of US President John Fitzgerald Kennedy only months after their encounter in the Vatican, the war in Vietnam, the cultural revolution in China, the six day war in the Middle East, the entry of the Soviet troops into Prague. Situations of conflict for which Paul VI had anticipated an impelling plea for peace in October 1965. As the late Cardinal John Foley recalls: "It was the first visit of a pope to the United Nations, even some of the people from communist states felt the power of what he was saying".