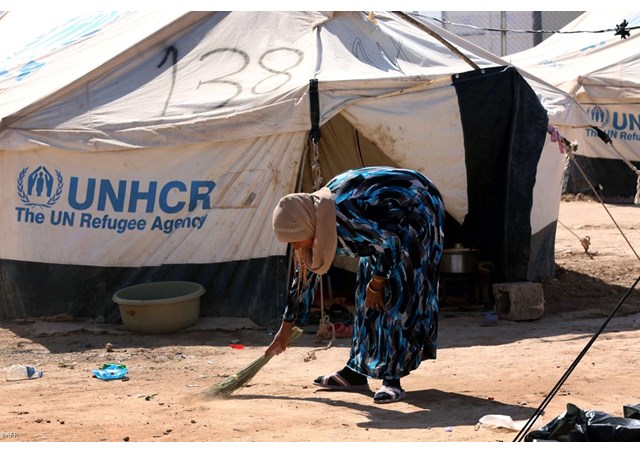 (Vatican Radio)  The latest ISIS offensive on the city of Hit in Iraq's Anbar province has triggered another wave of internal displacement in central Iraq.  The United Nations Refugee Agency, UNHCR, reported the news Tuesday, saying the north of Iraq is also receiving a surge in the numbers of Syrians fleeing Kobane in Syria, via Turkey.
In the past few days, after its capture by ISIS and affiliated armed groups over the weekend, an estimated 180,000 people have fled from Hit, 180 km from Baghdad, and the surrounding areas. The city's mostly Sunni residents, as well as other Iraqis who had found refuge there in the past, fled to Ramadi, Khaldiya, Hadithat, Rawa, Ana, Amiryah Rahaliya, and other places in Anbar province, as well as further afield to Kerbala and Baghdad. Many are sheltering with relatives and friends, as well as in schools, mosques and public shelters that are already hosting Iraq's mounting numbers of internally displaced.
Until recently, Hit had been a safe haven for those who had fled earlier waves of violence in Ramadi, Fallujah and other parts of Anbar, providing shelter for some 100,000 displaced people. The exodus from Hit represents the fourth major wave of displacement in less than a year in Iraq, and for many of those caught up in it, it is the 2nd, 3rd or even 4th time that they have had to flee since January. Tens of thousands of desperate Iraqis are now caught in a rolling wave of multiple displacement amidst the conflict's shifting frontlines.
UNHCR is sending mattresses, jerry cans, blankets and other relief items to Ramadi, Kerbala, Abu Greihb and the west of Baghdad city where displaced people have fled. However, humanitarian access to large parts of Anbar province is extremely limited by the ongoing conflict.
Meanwhile in northern Iraq, an increasing number of Syrian Kurds from Kobane are seeking shelter in Dohuk province having crossed the border from Turkey. Last Friday night, the Kurdish authorities opened the Ibrahim Khalil border, near Zakho, easing the journey for the steady stream of people who last week had to pay smugglers $250 each to cross.
Some 5,400 Syrians from Kobane have now entered Iraq, including 3,600 people in the last 72 hours. Another 10,000 to 15,000 people are expected to cross in the coming days.
Iraq already hosts some 214,000 Syrian refugees with the vast majority residing in the Kurdistan region of Iraq.  The more than 1.8 million internally displaced people in 2014 add to almost a million existing internally displaced people who had fled violence in previous years.