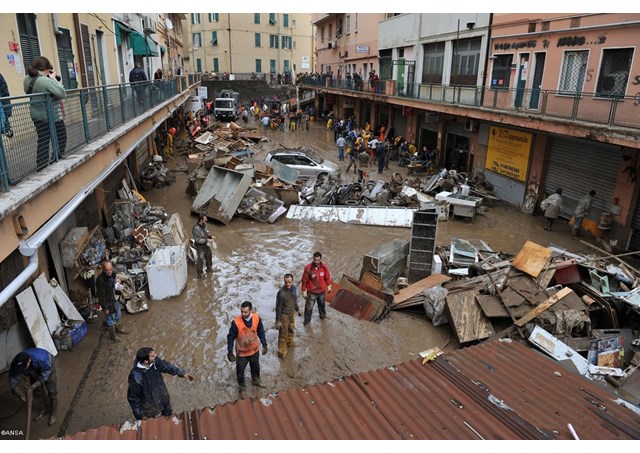 (Vatican Radio)  Pope Francis has called Italian Cardinal Angelo Bagnasco to express his concern for the people of Genoa who suffered devastating flooding Friday after sudden and torrential rains.  The Cardinal, who is also the President of the Italian Bishops Conference,  had left the Synod Hall to return to his diocese in the northern Italian port city to be close to the faithful and to assess the severity of the damage.  
At least one person was killed when rivers of water swept through the medieval port city burying large parts of it in mud and debris and piling up cars and trucks in heaps.  The latest flooding comes less than three years after torrential floods in the same city killed seven people in 2011.
Heavy rain remained in the forecast Saturday; civil protection authorities have maintained a high alert until at least till Monday. Genoa's geographical location between the sea and a ring of steep mountains, is particularly exposed to severe storms and flooding.
Cardinal Bagnasco told Vatican Radio that he had informed Pope Francis of the situation in Genoa on Friday night before he left Rome.  This morning the Pope called in a "fatherly" way, Cardinal Bagnasco said.  "He was informed, assured us of his closeness, and gave his assurances of his prayers and blessings," the Cardinal said.
Cardinal Bagnasco described the situation in Genoa as "dramatic," similar to the devastation caused in 2011 "but worse."  In some areas of the city he noted, "the situation is much more serious.  There are people who have lost everything:  shop owners, small handcrafts workers." He said the State and authorities must intervene with funding and resources to ensure that such catastrophes are not repeated yet again.