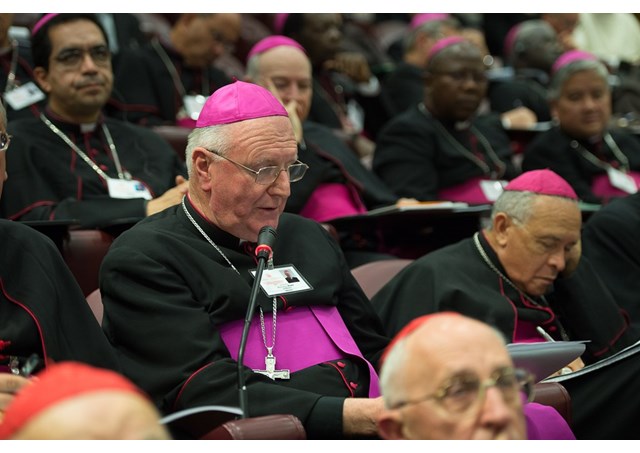 (Vatican Radio) "I came to this Synod with a lot of hope", says Archbishop Denis Hart of Melbourne, Australia.  "In my words, I suggested that we need to use in our teaching and in a way faithful to our teaching, words that engage with the experience of families".
Listen to his full interview with Emer McCarthy:
Abp. Hart - who is also President of the Australian Bishop's Conference - says he agrees with the point that was raised by one married couple in their presentation to Synod Fathers that the language the Church uses can appear to some people as if it were  "from another planet". He said his intervention suggested a 'rethink' in how to communicate the beauty of the Churches teaching on marriage and family life – particularly for those in crisis- beginning with the terminology that is used.  
"That's true in what the theology expresses, in that Catechism of the Catholic Church, about people being 'disordered', things being 'intrinsically evil'.  You say that to a parent who has a gay son or daughter and they just cannot understand that this child whom they love and who they have nurtured -  might have chosen a thing that they don't approve of – but is to be totally rejected because of that. And I think we have to be faithful to our doctrine and our teaching and practice have to go hand in hand, but we can do so with mercy and love and help people to realize that whatever may be the challenges that our in their life, they are respected and loved by the Church".
 Abp. Hart continues, that this Synod is "not an exchange of theological principals and ideas".  "They underpin all we do" he adds, "but the bishops want to engage with people and see the needs of families.  There are people who are separated and divorced, there are people who are same-sex attracted, there are people who are really struggling in their marriage, and wondering how they will go. The bishops have been emphasizing that we are pastors.  When our people suffer we feel for them, when our people are bereaved we cry with them, when our people are burdened with sickness we struggle with them, when people are uncertain about where they can go or are suffering terrible material poverty the Church has to be there with them.  I think this is the genius of Pope Francis.  The great thing that concerns us in this is Synod is our love for our people and our ability to walk with them".