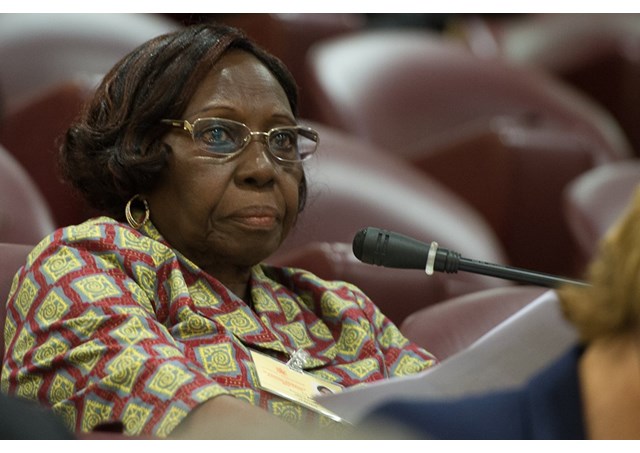 (Vatican Radio) How the Church upholds the dignity of homosexuals in Africa. How it deals with the problems of a polygamous family. And why it's essential for bishops to have good relations with leaders of other religious traditions. Those were some of the many different issues discussed by bishops at the Synod for the Family, as presented in the press briefing for Vatican journalists on Wednesday.
Speaking alongside Fr Federico Lombardi and his assistants were Nigerian Archbishop Ignatius Kaigama and Argentinean Archbishop Victor Fernandez, as Philippa Hitchen reports….
Listen: 
Wednesday morning's Synod session began with the very moving story of a Catholic woman from Ivory Coast, married to a Muslim man. That personal testimony set the tone for much discussion about the very practical problems facing Church leaders in Africa as they deal with a wide variety of complex and country-specific problems.
How should they react if a man with many wives and children becomes a Catholic? How should they respond to pressures from international organisations linking financial aid to the need for population control? And how can they uphold Church teaching on marriage while defending the dignity of gay people who are criminalised in a number of African countries? Archbishop Kaigama said the Church's position against criminalisation has been misrepresented in the media:
"We would defend any person with a homosexual orientation who is being harassed, imprisoned or punished….so when the media takes our story they should balance it….we try to share our point of view (but) we don't punish them. The government may want to punish them but we don't, in fact we will work to tell the government to stop punishing those who have different orientations."
The challenges facing mixed marriages in other parts of the world too have been high on the Synod's agenda, with a focus on the importance of strong interfaith relations between leaders of the different communities. Canadian Fr Tom Rosica shared points highlighted by English speaking bishops at the meeting:
"The complexities of Islamo-Christian relations, marriages and families…in each country we heard detailed reports about what takes place….what law do we appeal to….the importance of Catholic leaders in Christian minority countries to have good relations with civic and religious leaders.."
Latin American Church leaders focused on family problems created by poverty, migration, domestic violence and the macho culture, as well as issues that are specific to different indigenous cultures in their countries.
Archbishop Fernandez shared some fascinating insights about Cardinal Bergoglio's experience in Argentina and his current drive to promote authentic debate among the broader family of Synod fathers gathered here in Rome.
Finally, Fr Lombardi described an image of the Church proving popular amongst Synod participants: while their task is to share the light of the Gospel, he said, it's not the cold, distant beam of a lighthouse, but rather the warm, 'kindly' light of a torch, which we carry with us, as Cardinal Newman so poetically put it, to guide our feet, one step at a time.