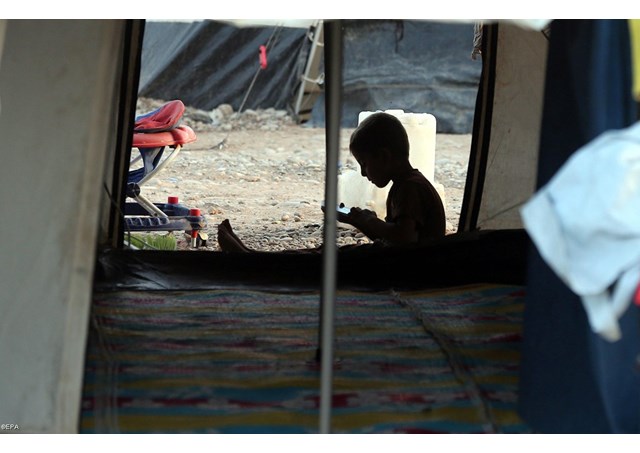 (Vatican Radio)  The Holy See's top diplomat to Jordan and Iraq says education, stopping the flow of weapons into the region and preventing the illegal sale of oil must become priorities for the international community if there is to be any hope of ending conflicts in Syria and Iraq.  Apostolic Nuncio, Archbishop Giorgio Lingua, says "it is very much crucial and I think on this the international community can do a lot.  You know, if you buy an apple, you want to know if it's coming from Chile or from New Zealand and so how can you not know where a tank is coming from or a Kalashnikov for example? So I think the international community has a responsibility (to stop) this weapons commerce and also the oil which is going out – everybody can know where it's going, who is buying it…these are things that can be stopped if there is really a will to stop them."
Listen to Tracey McClure's extended interview with Archbishop Lingua in which he speaks of concerns shared by Nuncios who at the weekend concluded a three day crisis meeting in the Vatican to discuss the challenges facing the Middle East's Christians and other minorities:
In their bloody campaign of terror in Iraq, Islamic State (also known as "IS" or ISIS) militants have purged Mosul and the Ninevah Plains of Christians and other minorities, many of whom have taken refuge in Erbil, in northern Iraqi Kurdistan.  Analysts say the militants are militarily well equipped and profit from the illegal sale of millions of dollars of oil pillaged from abandoned oil installations.
Speaking of the international coalition of some forty countries which has launched an air campaign to strike IS in Iraq and Syria, Archbishop Lingua says "wars never bring peace" and the use of "force can stop for a moment certain phenomena like aggression but it cannot change a mentality." Education, he says, is "crucial:"  "If we do not go to the root of the problem, the problem will arise again, maybe in different ways, but for this I think it is very important the role of religious leaders.  They must (teach) tolerance in schools, in mosques, in churches."
"I think as Pope Francis said, (the) aggressor must be stopped and he also added, 'I do not say bombed, but stopped,' continues the Archbishop.  "And 'stopped' of course requires military intervention also.  But this will not solve the problem. This will only postpone, maybe, the problem.  For a lasting solution, it is necessary (to focus) on education."