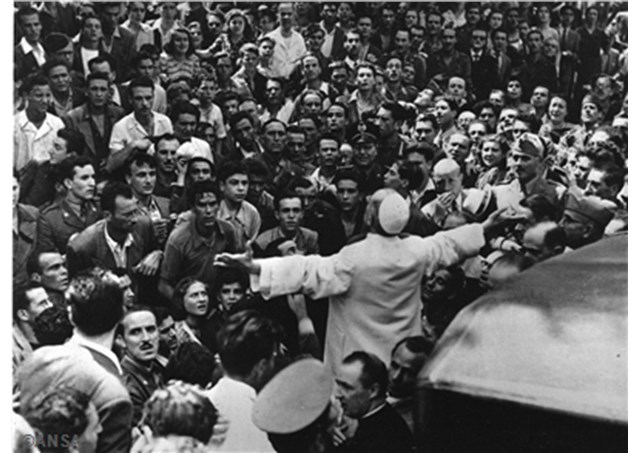 (Vatican Radio) Jesuit Father Gerald Fogarty teaches religion and history at the University of Virginia in the United States and is an expert on diplomatic relations between the Holy See and the United States.
He was in Rome early October to attend a conference which focused on new archival evidence relating to Pope Pius XII. Father Fogarty who has recently checked out archives connected to this pontificate in the United States and across Europe was asked by Veronica Scarisbrick if he'd come across any significant information in the course of this research.
Listen to Jesuit historian Father Gerald Fogarty in an interview with Veronica Scarisbrick:
It seems that some of the information Father Fogarty discovered in private archives in the United States, refer to the visit this twentieth century pope made there in 1936 when he was still Cardinal Pacelli, Vatican Secretary of State. Among the archive material he consulted is the diary of the United States Ambassador to Italy of the time, William Philips. What transpires is that  while  there were no diplomatic relations between the US with the Holy See at the time the Ambassador did manage to meet the Cardinal Secretary of State at a social level through mutual friends and writes that Pacelli made clear on this occasion that he was anti-Hitler.
In another entry, this time following the election of Pius XII in 1939, Ambassador Philips writes of more negative information relating to this war time pope afforded him by Belgian broadcaster from Vatican Radio, Jesuit Father Emmanuel Mistiaen. Information which refers to a particularly complicated situation Father Fogarty comments.
Listen to this interview which also touches on archival information relating to the personal representative of President Roosevelt to the Pope in 1941. An appointment made when the war broke out and the US State Department decided it wanted to have an American ear inside the Vatican walls.