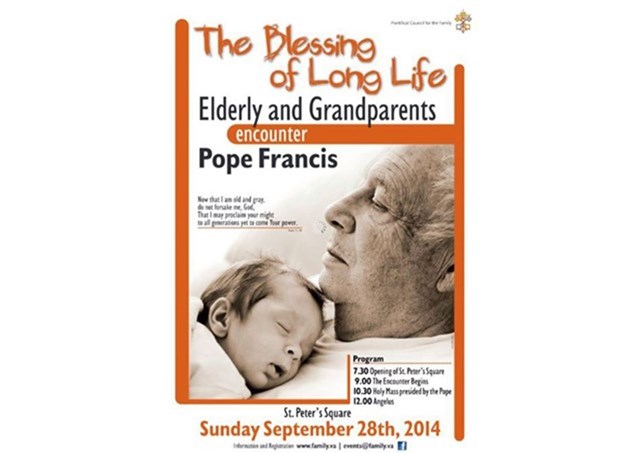 (Vatican Radio) What is the role grandparents play in keeping prayer at the heart of the family in the 21st century and how important are they in passing down the faith to a new generation?
That is what grandparent and founder of the Catholic Grandparents Association, Catherine Wiley will be highlighting when she gives her testimony on the vocation of grandparents to Pope Francis on Sunday.
Listen to Lydia O'Kane's interview with Catherine Wiley
Catherine will be among forty thousand grandparents and elderly people who will meet the Pope in an event entitled "The blessing of a long life" which will take place in St Peter's Square.
The event organised by the Pontifical Council for the Family, will also see Pope Francis celebrate Holy Mass which will be concelebrated by more than fifty elderly priests from around the world.
Speaking to Vatican Radio about her testimony on Sunday, Catherine Wiley says she wants the focus of her words to the Holy Father to be about the unique role grandparents have in guiding grandchildren in their faith. "They (grandparents) really have a unique opportunity to pass on the faith to their grandchildren when they're small".
Pope Francis has spoken often during his pontificate about the importance of grandparents and Catherine says "that everybody thinks of the Pope as a grandfather figure and in fact my grandson will be asking the Pope a question and he will be telling him that the children of the world love him like a grandfather" 
The Catholic Grandparents Association, which has offices in both England and Ireland was started by Catherine in 2009 after she successfully organised the first National Grandparents' Pilgrimage to the National Shrine of Our Lady in Walsingham in England and the first Irish National Grandparents' Pilgrimage to the Knock Shrine in September 2007. The pilgrimages are now held annually.