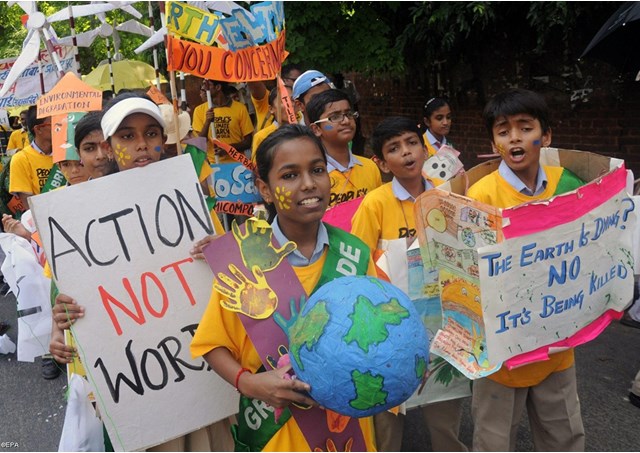 (Vatican Radio) As world leaders meet in New York on Tuesday at  a summit convened by UN Secretary-General Ban Ki-moon to discuss the global fight against climate change, a new report highlights the crucial role a new set of Sustainable Development Goals must play in meeting the challenge.
 
It says the goals, to be agreed next year, offer a vital opportunity for the international community to tackle the way that climate change is driving people into poverty.  
The report, written by leading humanitarian organizations including the faith-based Christian Aid and CAFOD together with CARE International, Greenpeace, Practical Action and WWF-UK says it is now clear that without action to tackle climate change, efforts to eradicate poverty will be severely compromised.
Linda Bordoni spoke to Dr Alison Doig, Christian Aid's Principle Climate Change Adviser about the report and about the contribution of faith-based organizations to the cause…
Listen to the interview: 
Dr. Doig explains that the report entitled "The Right Climate for Development" has been sponsored by major organizations who are committed to issues of environmental concern and poverty eradication.
The report –she says is "a real coming together of minds" that aim to examine the Sustainable Development Goals (SDGs), the expected successors to the Millennium Development Goals which expire at the end of 2015 of which a lot of them will have been achieved – "but not all of them: that's why we have a new set of goals" she said.
These MDGs Doig said – aimed to eliminate poverty, "but what was not addressed was the natural environment in which people live, survive and need for their development".
"We're proposing that natural environment and particularly the impact of climate change must be integrated into these new Sustainable Development Goals so we can end poverty in a sustainable way" she said. 
Doig explains that climate change and poverty are directly connected because rising sea levels and the increasing frequency and intensity of extreme weather events such as typhoons and floods – all the result of global warming – are claiming lives, damaging and destroying homes and infrastructure, reducing crop yields, and ruining employment prospects.
She says these impacts will increase if action is not taken to cut carbon emissions and support is not given to the most vulnerable countries to adapt to the changes that they are already experiencing.
Highlighting the need to recognise that climate change, poverty eradication and sustainable development cannot be tackled as separate issues, Doig says the Church and faith-based organisations have much to contribute and will have a voice in the development of the SDGs to be announced next year.
 
You can read the report "The Right Climate for Development: Why the SDGs must act on climate change" by clicking on this link.