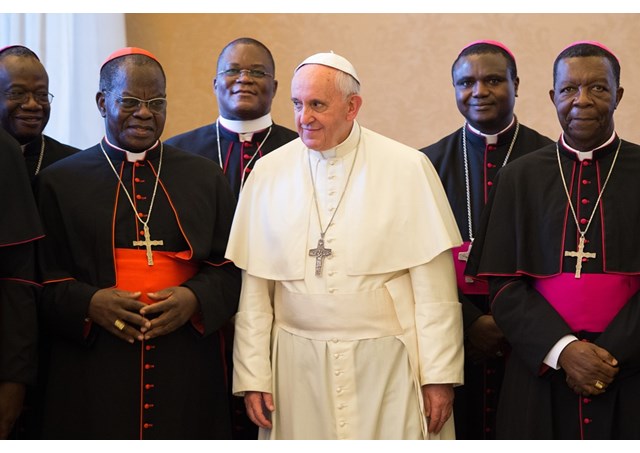 (Vatican Radio)  Pope Francis deplored the use of child soldiers in the DR Congo and urged the country's Catholic Bishops to strengthen their pastoral outreach to the young people in their nation. He also appealed to them to do all in their power to promote peace and disarmament. The bishops from the war-torn African country are currently in Rome on their ad-limina visits.  
In his discourse, Pope Francis told the bishops from the DRC  that the young people of their nation need the strength of God in order to resist the multiple temptations arising from the precarious state of their lives and of being unable to complete their studies or find work.  " I am thinking with horror,"  he continued, "of these children and adolescents who are forcibly recruited into militias and are compelled to kill their young compatriots."
Quoting from his encyclical, Evangelii gaudium, the Pope said the most effective way to defeat violence, inequality, as well as ethnic divisions, is to "provide an education which teaches critical thinking and encourages the development of mature moral values."  "I urge you to be apostles for the youth in your dioceses."
"In the same way", he continued, "faced with the break-down of the family triggered especially by war and poverty, it is essential to promote and encourage all initiatives aimed at strengthening the family."
Another important pastoral task that the Pope outlined to the bishops was the need to help the population rediscover the relevance of their faith in their daily life and to promote the common good.  I urge you, he said, "to work untiringly for the establishment of a just and lasting peace," through dialogue and reconciliation and by supporting the process of disarmament.  At the same time, the Pope warned the Bishops to avoid taking on the roles of political institutions.
Turning to issues of solidarity, the Pope concluded his address by urging the bishops to do their utmost when reaching out to the poor and needy as well as the elderly, the sick and the disabled.  
Listen to the report by Susy Hodges on the Pope's address: