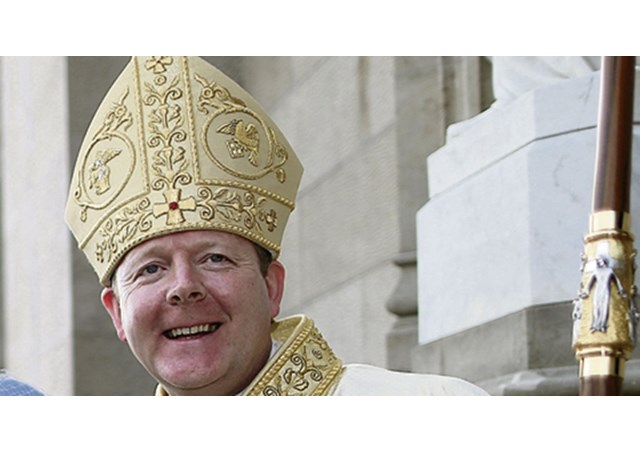 Archbishop Eamon Martin has become Archbishop of Armagh and Primate of All Ireland after Pope Francis on Monday accepted the resignation of his predecessor, Cardinal Sean Brady.  For the past 16 months Archbishop Martin has been the Coadjutor Bishop of the Diocese, with the right of succession.  Aged 52, the new archbishop is a native of Derry in Northern Ireland.  He spoke to Susy Hodges about his feelings on his first day in his new post, the challenges facing the Catholic Church and the state of the Northern Ireland peace process. 
Listen to the interview  with Archbishop Eamon Martin, Archbishop of Armagh and Primate of All Ireland: 
Archbishop  Martin described himself as "a little bit nervous and fearful for the future" but also said he is "buoyed up"  by the support and prayers of so many people.   He said he considers his greatest challenge in his new position  is "to have the courage to get up and go out"  to the peripheries and in the words of Pope Francis views "his pastoral ministry in a missionary key."  The archbishop says because of the impact of the clerical sex abuse crisis and other difficulties in recent years, the Church in Ireland has often tended to be too inward-looking. 
"In some ways, the Church has become a little bit focused in on ourselves because we're been going through a very tough time here in Ireland with all the scandals of the abuse and also with increasing secularism and fewer vocations."
Asked whether he feels confident that with the safeguards now in place to protect children and vulnerable adults such abuse won't ever happen again, Archbishop Martin warns that they can never be too complacent on this point.   
"Sadly we can never say never, that there won't be somebody there who will use their position in the Church to perpetrate these heinous crimes….. we have to be vigilant, to have robust procedures and guidelines."
Turning to the peace process that brought an end to the decades of violence between nationalists and unionists in Northern Ireland, Archbishop Martin says here too there is an ongoing process of reconciliation that needs to be nurtured as there are still people who oppose the peace process.  
"We have to not be complacent because there are still those that would bring us back to those awful days (of the Troubles)."