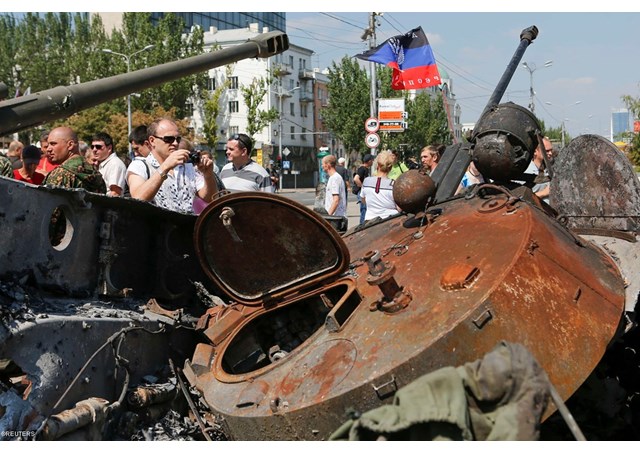 (Vatican Radio) Western rights activists have expressed concern about the way pro-Russian separatists are treating captured Ukrainian soldiers in eastern Ukraine after they were paraded Sunday in the city of Donetsk. Ukrainian Christians are also among those being targeted by the rebels in eastern Ukraine. 
Listen to Stefan Bos' report: 
The tensions come while Ukrainian government forces recaptured territory from pro-Russian separatists amid heavy shelling that killed several people, though the army has denied targeting civilians.
Heavy bombardments have added to anger among local residents, who re-emerged out of bomb shelters Sunday.
"Fascists!" "Murderers" and "Hang them from a tree!" shouted crowds at captured Ukrainian soldiers who were forced to march through the streets of rebel stronghold Donetsk.
Many pelted the young men with eggs, water bottles and tomatoes. Some try to beat them. 
Sunday's cynical spectacle of bruised, filthy and clearly frightened soldiers being marched, hands bound and surrounded by guns carrying pro-Russian separatists, is in sharp contrast to Ukrainians in Kiev who celebrated Sunday their country's independence from the Soviet Union with military might.
GERMAN SOLDIERS
Donetsk's event resembles the forced march of some 60,000 German Nazi soldiers through the streets of Moscow in 1944 towards the end of World War Two. Also on display in Lenin Square in Donetsk: 10 Ukrainian army vehicles destroyed by rebels.
Nearby people are seen trampling on a Ukrainian flag.
Advocacy group Human Rights Watch says Sunday's march may be regarded as a war crime as it violated the Geneva Conventions which prohibits humiliating and degrading treatment of captives of armed conflicts.
Besides Ukrainian soldiers, devoted Ukrainian Christians are being targets by pro-Russian rebels in eastern Ukraine.
Local Christians have been mourning four young church workers and a pastor who were killed in separate incidents by pro-Russian forces in recent weeks.
ARCHPRIEST KILLED
Brothers Reuben Pavenko, 30, Albert Pavenko, 24, Viktor Bradarsky, 40, and Vladimir Velichko, 41, were kidnapped by pro-Russian forces on June 8 after a festive Pentecost Sunday service at the Transfiguration Church in the eastern city of Slavyansk, according to church sources.
Additionally Pastor Sergey Skorobagach from the Vivification Church, who served as chairman of the City Council of Churches, was reportedly killed by pro-Russian rebels.
Earlier in May, Archpriest Pavel Zhuchenko of the Ukrainian Orthodox Church of the Moscow Patriarchate was shot dead near a roadblock in the Donetsk region.
Several other church leaders have been kidnapped. Their church buildings, as well as a Christian university in Donetsk and church-backed orphanages and other aid centers were either threatened, occupied or in some cases destroyed by pro-Russian rebels.
He was "killed on June 14 in [another] terrorist attack on the bridge in [the south eastern city of] Mariupol" said the Council of Evangelical Protestant Churches of Ukraine. Some reports said the pastor's vehicle was shelled by militants.
Church officials link the crackdown to humanitarian aid given by devoted Christians to everyone suffering in this conflict, including Ukrainian soldiers, and their open expression of faith in Jesus Christ.