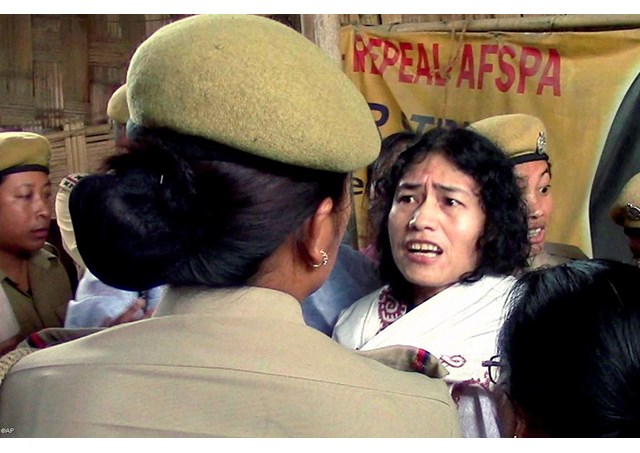 Indian human rights activist Irom Sharmila, on hunger strike for the last 14 years in protest against alleged army atrocities, was arrested again on Friday two days after being released from hospital detention. "Sharmila has been re-arrested. It is clear that she is attempting suicide and we cannot allow her to do so," said M.C. Singh, a police official in Imphal, capital of the remote northeastern state of Manipur.
On 2 November 2000, in Malom, a town in the Imphal Valley of Manipur, ten civilians were shot and killed while waiting at a bus stop. The incident, known as the "Malom Massacre", was allegedly committed by the Assam Rifles, one of the Indian Paramilitary forces operating in the state. The victims included Leisangbam Ibetombi, a 62-year old woman, and 18-year old Sinam Chandramani, a 1988 National Child Bravery Award winner.
Sharmila, who was 28 at the time, began to fast in protest of the killing, taking neither food nor water.  As her brother Irom Singhajit Singh recalled, "It was a Thursday. Sharmila used to fast on Thursdays since she was a child. That day she was fasting too. She has just continued with her fast."
Three days after she began her strike, she was arrested by the police and charged with an "attempt to commit suicide",  which is unlawful under the Indian Penal Code (IPC), and was later transferred to judicial custody. Her health deteriorated rapidly, and nasogastric intubation was forced on her in order to keep her alive while under arrest.
Irom Sharmila has been regularly released and re-arrested every year since her hunger strike began under IPC section 309. The law declares that a person who "attempts to commit suicide ... shall be punished with simple imprisonment for a term which may extend to one year or with fine, or with both."  Her primary demand to the Indian government is the complete repeal of the AFSPA  which has been blamed for violence in Manipur and other parts of northeast India.
"The government is scared of Sharmila. The authorities do not want her to fight for our rights but nothing can break her determination," said her lawyer, Babloo Loitongbam. Sharmila, is known as the Iron Lady of Manipur. Activists blame the army for the killings but no arrests have been made in case. Despite calls from judicial inquiries and human rights groups, the federal government has kept in force the anti-terror law in parts of northeast India and mainly-Muslim Kashmir to allow the military to contain insurgencies.