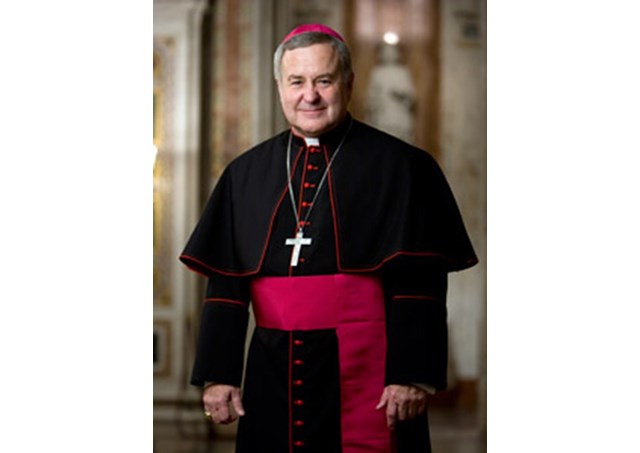 (Vatican Radio) As protests continue in the town of Ferguson in the United States, Archbishop Robert Carlson of Saint Louis is calling on Catholics to work for peace.
In an interview with Vatican Radio, Archbishop Carlson outlined some of the ways the Church is responding to the crisis. He noted that the local parish has been a centre for prayer in recent days.
Listen to the complete interview of St Louis Archbishop Robert Carlson with Christopher Wells: 
The Archdiocese, he said, is also providing counseling for those affected by the violence, reaching out to local residents, protestors, and police. Catholic charities are also coordinating with other aid agencies to provide food for residents as many stores are closed. Archbishop Carlson also pointed to Catholic schools, which offer many young people a pathway out of poverty.
Archbishop Carlson also noted ecumenical efforts to address the underlying issues that have come to light. Leaders of various religious communities are working together to help ease tensions and promote dialogue.
On Tuesday, in a letter on the situation in Ferguson, Archbishop Carlson, quoting Pope Francis, said, "All men and women of good will are bound by the task of pursuing peace."
Archbishop Carlson has invited the Catholic faithful to attend a Mass for Justice and Peace, set to take place on Wednesday evening at the Cathedral Basilica of Saint Louis, just a few miles from the site of the protests. During the Mass, a collection will be taken up to assist food pantries and parishes in the area that offer assistance to those affected by looting and the destruction of property.
In addition, Archbishop Carlson is calling on parishes to offer Masses for peace in the community, and offering appropriate resources through the Archdiocesan Office of Worship.
The commitment to peacebuilding extends to various initiatives throughout the Archdiocese, especially to Catholic schools, many of which are beginning classes in the coming weeks. Archbishop Carlson is encouraging Catholic schools to begin a daily Rosary for peace, and to offer special intentions during all school Masses.
In concluding his letter, Archbishop Carlson pointed again to the example and teaching of the Holy Father. Pope Francis, he says, "has encouraged us again and again to ask Our Lady, the Undoer of Knots, to intercede for us in difficult circumstances. So too, I ask all the faithful in the Archdiocese of St. Louis to join me in praying to Our Blessed Mother and to her son, Our Lord Jesus Christ, for peace and justice in our community."
You can find the complete text of Archbishop Carlson's Letter on Ferguson on the website of the Archdiocese of Saint Louis.