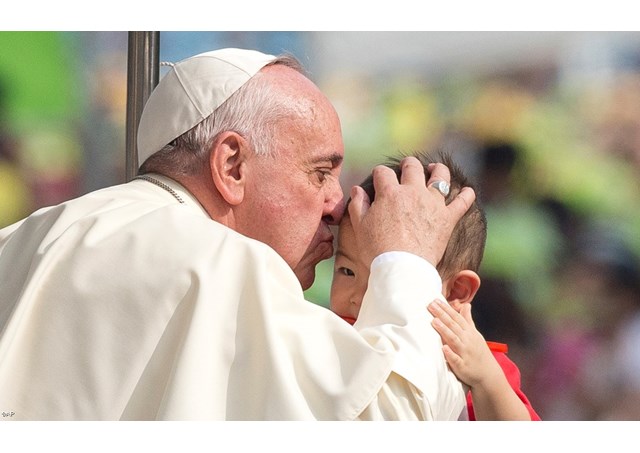 (Vatican Radio) Wherever he has gone on this Papal journey to Korea, Pope Francis has made an impression on young and old alike. As Seàn Patrick Lovett tells us, the internet has taken note of the Pope's caring personality.
It's a particularly miserable day for journalists covering the papal visit because we're curious to know what the papers say about yesterday's events – but today, being Sunday, there are no papers.
Fortunately, there's internet. Four of Korea's daily tabloids continue to publish their news items on the web, however, even on holy days and holidays.
So (thanks to our faithful translator) here's a sampling of what they say.
More than one title laments the fact that no Korean prayers were read during the events in Kkottongnae yesterday. Several articles explain why: the Pope was running late for all his afternoon appointments because he spent  longer with the children up at the "House of Hope" Centre than expected. And no one contests the importance or the significance of that visit.
Reports on Pope Francis' meeting with religious give ample space to his comments on the need for poverty to be "at the centre of religious life" and his warning against forms of religious hypocrisy that attempt to reconcile material wealth with consecrated life.
Much is made of that which is unanimously considered the most moving event of yesterday afternoon: Pope Francis among the disabled children. All articles express respectful amazement at the way the Holy Father insisted on engaging with every single person in the room, embracing and caressing both young and old, one by one. There are details of the gifts given to the Pope, including the paper bird and tortoise made by a woman with her toes – the same woman who works as a volunteer assisting other disabled people at the centre.
Finally, there are several reports describing the Beatification Mass at Gwanghwamun. They give facts and figures concerning the event, syntheses of the Pope's homily on the example and heritage of the martyrs, and express satisfaction at the way the complex issue of security was handled. Never in the history of Korea, so they say, have so many agents been mobilised to protect one individual.                                                    
In Seoul, I'm Seàn-Patrick Lovett