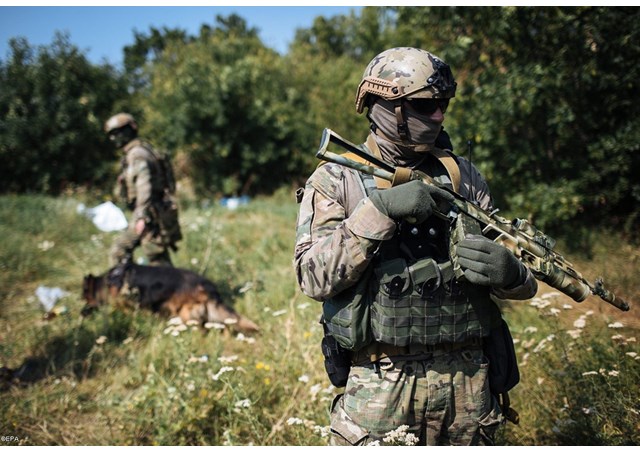 (Vatican Radio) Rebels in eastern Ukraine say a massive military convoy is on its way to the region from neighboring Russia. 
The announcement comes days after the NATO alliance and Western journalists said they saw Russian armour crossing the border, though Kiev claimed its troops destroyed a significant part of that column. 
Meanwhile Moscow denies involvement in the fighting between pro-Russia separatists and Ukrainian government forces. 
Listen to the report by Stefan Bos: 
The self proclaimed prime minister of the Donetsk rebel area, Alexander Zakharchenko, said 150 Russian military vehicles and 1,200 personnel were approaching their border. 
He claimed military hardware included 30 tanks, infantry fighting vehicles, and armoured personnel carriers.
NATO Secretary General Anders Fogh Rasmussen said his alliance already witnessed another Russian military column entering Ukraine earlier this week.
"I can confirm that last night we saw a Russian incursion, a crossing of the Ukrainian border," he told reporters. "It just confirms the fact that we see a continuous flow of weapons and fighters from Russia into the Eastern Ukraine".
COLUMN DESTROYED? 
Kiev said its forces destroyed part of the column, but Moscow called that "a fantasy". 
Moscow denied backing pro-Russia rebels in eastern Ukraine, where government troops recaptured areas in the Donetsk and Luhansk regions. At least 1,200 people have died in months of fierce fighting, which forced hundreds of thousands of people to flee their homes. .  
The clashes have raised doubts whether Russia can deliver humanitarian aid to war-torn eastern Ukraine where many are without clean water and adequate food. 
On Saturday, hundreds of Russian white trucks remained stuck near Ukraine's border.