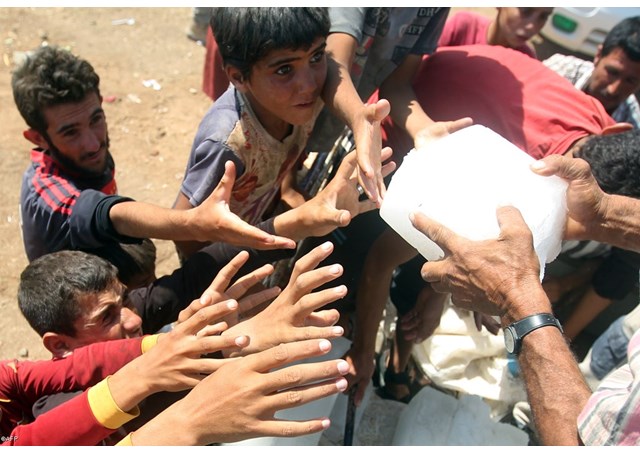 (Vatican Radio) Pope Francis' personal envoy in Iraq,  Cardinal Ferdinando Filoni says the displaced people he's met during his current tour of northern Iraq are calling for immediate assistance from the international community before it's too late.  
Listen to Susy Hodges' report: 
The Italian Cardinal was named by the Pope in order to give moral, spiritual and psychological support to the persecuted Christians and other minorities forced to flee their homes because of the advance by the Islamic State militants in Northern Iraq.  
The envoy also took with him  an undisclosed but substantial sum of money given to him by the Pope to help provide for the most urgent needs of the displaced people.  
Cardinal Filoni told Vatican Radio that he met the governor of Dohuk province today who told him that the population has almost doubled because of the influx of displaced people and they were in dire need of additional supplies of the essentials for daily life.  
He later met the Chaldean Patriarch and toured several refugee camps and the village of Manghes. This village, he said, was hosting numerous  displaced Christian families who had fled from their homes in the city of Qaraqosh and other towns and villages in the Nineveh plains. 
  
Cardinal Filoni then described to us how they visited in the same village a group of displaced Yazidi people who were visibly distraught as a result of the trauma they had endured including witnessing the murder of many of their people by the militants.   
He said many of the elderly Yazidis were weeping because they saw no future for themselves in their homeland and they kept asking us, "What sin have we committed to be slaughtered in this way?"   
The previous day, Cardinal Filoni visited displaced communities at several other towns in Iraq's Kurdish region and during a meeting with leaders of the Yazidi community he handed over the sum of 25,000 US dollars as a tangible sign of the Pope's solidarity.  He also assured the Yazidis that the Pope does not just speak out to defend Christians but all the religious minorities whose rights have been violated during this "terrible tragedy."