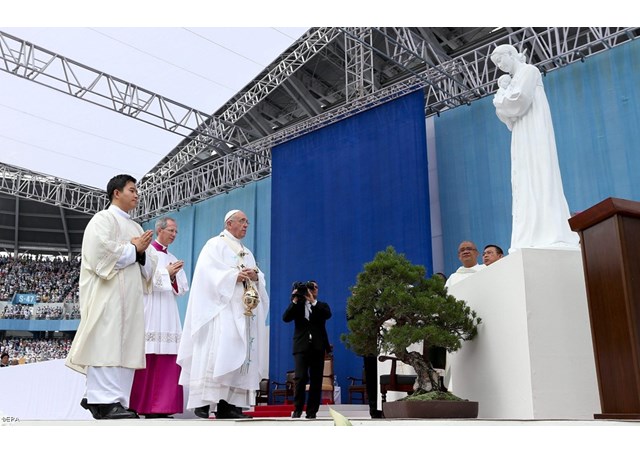 (Vatican Radio) As journalists covering the papal visit to Korea try to divine Pope Francis' agenda, Vatican Radio's Sean Patrick Lovett says the Pope's focus is spiritual:
Listen:
One of the advantages of working inside an International Press Centre (like the one I'm in right now in the heart of Seoul) – apart from the air-conditioning and free coffee – is the opportunity to eavesdrop on what my fellow media professionals are saying about the papal visit.
Take this morning, for example.
August 15th is a national holiday here, not because the Catholic Church celebrates it as the Feast of the Assumption, but because it coincides with the surrender of the Japanese army at the end of World War II. So, in Korea, today is Independence Day – a political recurrence, not a spiritual one.
Secular media outlets are carrying stories that are pertinent to the occasion: calls for belated apologies from Japan (69 years after the event), pleas for reunification of the two Koreas (61 years after the division of the peninsula at the 38th parallel), and garbled debates about militarization and demilitarization (delightfully illustrated by a cartoon in "The Korea Times" depicting two soldiers in a guard tower: "So, if war breaks out, which side are you shooting at?" – asks one. "I dunno yet!" responds the other).
Naturally, all this sparks equal debate among the press corps over what the Pope might or might not say during his public speeches during the day. Will he echo the same calls, repeat the same pleas, enter the same discussions? Will he criticize North Korea for not sending a delegation to Asia Youth Day? Will he weigh in on the country's nuclear power debate? Korea has the 5th highest number of nuclear plants on the planet and plans to build another 20. 
The answer, of course, as we religious correspondents know – is "no".
For Catholics, today is a holy day. Which is why the Pope celebrated Holy Mass – together with some 50,000 faithful in the World Cup Stadium of Daejeon. Everything he had to say he said in his homily, which was dedicated to the Feast of the Assumption. As such, his reflections included constant references to Our Lady as source of hope and consolation. He also focused specifically on the Church in Korea, encouraging Catholics ("heirs of a noble tradition", as he described them) to reject materialism and unbridled consumerism. At the Angelus he prayed for the suffering, the sick, the poor and the unemployed – as well as for those who died in the Sewol ferry disaster and their families, 40 members of which he met before the Mass. One of them asked to be baptised. Pope Francis said he will perform the ceremony himself tomorrow morning at the Nunciature where he is staying.
Now, on a day like today, that's the kind of news we need to hear.