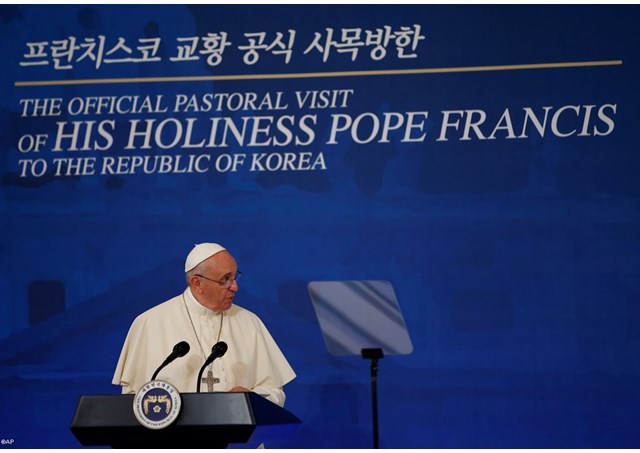 (Vatican Radio) Pope Francis' first major address during his Apostolic Voyage – to Korea's political and civil leaders – was also one of his first speeches in English. Sean Patrick Lovett, the head of Vatican Radio's English section, was in Seoul, and reports on the reaction to the Pope's words:
Listen to Sean Patrick Lovett's report from Seoul:
Many of the English-speaking journalists here at the Press Centre in Seoul were so excited about hearing Pope Francis pronounce his first speech in Korea in their language, they almost forgot to listen to what he said. Nearly all of them awarded him top marks for pronunciation, modulation and tone – which they felt more than befitted the occasion.
The occasion, of course, was the first public event on the Pope's Korean schedule: his meeting with the nation's authorities, members of government, the diplomatic corps, and President Park Geun-hye.
The Korean President's address centred largely on describing the different events that will involve the Holy Father during this apostolic visit – from the celebration of Asian Youth Day to the Beatification of the 124 martyrs. Referring to the final Mass for peace and reconciliation scheduled to be celebrated in Myeong-dong Cathedral on the final day of the trip, she spoke of the Korean War (waged between 1950 and 1953) as a gash in the nation's history and a wound that has lacerated Korean families as well.
Pope Francis also referred to the fact that Korea is a land that "has long suffered a lack of peace". He expressed his appreciation for all efforts made towards fostering a spirit of reconciliation on the Korean peninsula, "for it inspires stability", he said, "in the entire area and of our whole war-weary world". (By the way, it was that tongue-twister that won him the unashamedly appreciative applause of the English-language press following the speech).
The Pope warmly encouraged "the formation of new generations of citizens ready to bring the wisdom and vision inherited from their forebears and born  of their faith to the great political and social questions facing the nation".
He reiterated the Korean Catholic community's commitment  to participating fully in the life of the country, by reminding those present that "the Church wishes to contribute to the education of the young, and the growth of a spirit of solidarity with the poor and disadvantaged".
But his final words were for the elderly and the young people: "By preserving memory and inspiring courage", he said, "they are our greatest treasure and our hope for the future".
The next time Pope Francis speaks publicly in English will be during the Angelus after the Mass with young people in Daejeon. Hopefully we'll be listening more closely to what he says – rather than to how he says it.