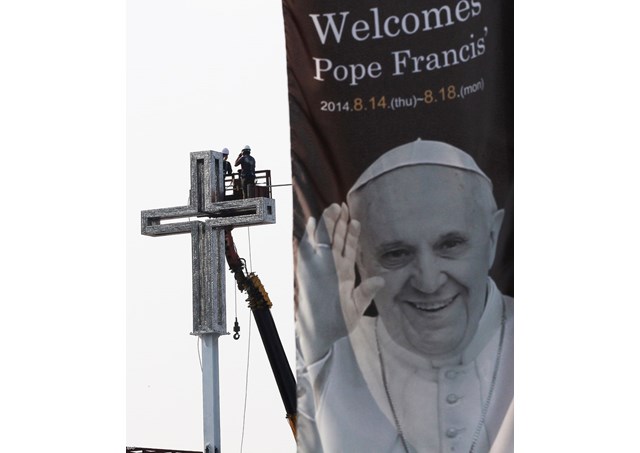 (Vatican Radio) Pope Francis is scheduled to leave Rome's Fiumicino airport for Seoul, Korea, at 4pm Rome time.  Pope Francis is visiting the country for the 6th Asian Youth Day. The Director of Vatican Radio's English Programme, Seàn-Patrick Lovett, is in Seoul, awaiting the Pope. He sent this report…. 
Listen:
Taekwondo is a form of martial arts.
It's based on a combination of physical skill and mental concentration.
It's also specifically Korean and eloquently reflects one of this country's most striking characteristics: the ability to react to challenges with an energy that comes from both without and within.
How else do you explain one of the most rapid and exemplary economic recoveries in the history of the world? As a child at school in the 1960's I remember donating my pocket money to the "Korean poor orphans fund". Today, those orphans are active contributors to the world's 13th industrial power and live in one of most thriving and technologically-advanced societies on the planet. And the secret to their success is precisely this: mental determination and concentration, physical ability and skill.
In other words, there's nothing Koreans can't do if they set their minds to it.
And they've certainly set their minds to making this papal visit an event to remember. The organizational machine is simply impeccable. Hundreds of smiling volunteers appear out of nowhere to answer even the silliest question. Dozens of translators are on hand to help you decipher the intriguing symbols that compose the Korean alphabet. Nothing is too much trouble. Everything works. Including the Italian expresso coffee machine. Even the policemen are charming. And wait till you see the flower arrangements.
With the International Press Centre up and running as of today and journalists streaming in from all over Asia and beyond – all that's missing is the Pope.