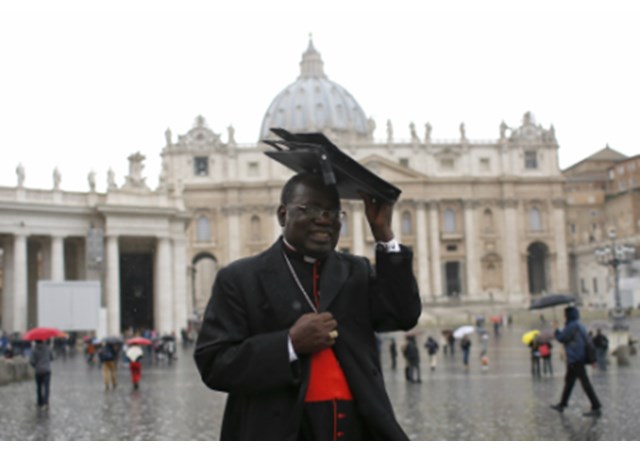 (Vatican Radio) The Archbishop of Dakar in Senegal, Théodore Adrien Cardinal Sarr, has spoken out passionately about the need to recognise the important role that women play in a Christian community such as a parish.
 "The role of women within the Christian community is as undeniable and important as that of a mother at home."  Théodore Adrien Cardinal Sarr has said. The Cardinal was speaking during a Mass celebrated recently in the parish of St. Mary Magdalene in Mbao, Senegal.
 "Take your rightful place," the Cardinal said to the women present at the celebration, "the Church recognises you in truth and justice."  The Cardinal continued: "The parish community needs the passion, the initiative of women; needs their joy in witnessing to the love of Jesus Christ."
The Cardinal further said that, "in the quest to build a community united in Christ the Saviour, a community of God's family, a family of families, we cannot develop without the feminine intuition, without the maternal instincts, without the care of women."
At the same time, the Cardinal criticised he mistreatment of women and unhelpful attitudes prevalent in some parishes.  Sexist and culturally-based attitudes towards women exist also in parishes, he said. These attitudes are not only malicious but are also unproductive and unhelpful. On the contrary, what is needed is "the sharing of skills and weaknesses, ambitions and dreams of all, to build a community instead of destroying it, to feed it (Christian community) instead of making it wither."
Cardinal Sarr's appeal "not to ignore the role of women in the pastoral care of the parish," is based not only on the fact that women "stand out for their dynamism in the movements, groups and (apostolic lay) associations" but also because of their spontaneous generosity in the various diocesan organisations, parishes and community ".
In following Christ, it is important to put into practice "a brotherly and sisterly love that is based on mutual respect, esteem and care," The collaboration in sharing of views, skills and capabilities of each other should be premised on trust.  The differences should be seen as complimentary and not as a problem, Cardinal Sarr concluded.