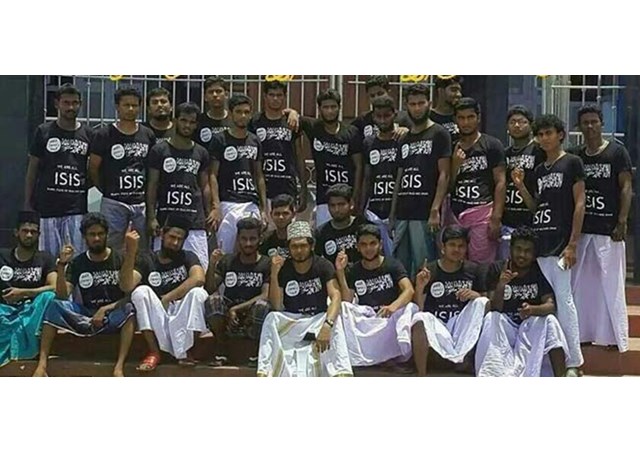 The Indonesian government has officially banned the teachings of the Islamic State of Iraq and Syria (ISIS) following the emergence of a YouTube video featuring an Indonesian man calling on local Muslims to join the militant movement. Djoko Suyanto, Coordinating Minister for Political, Legal and Security Affairs, held a press conference on Monday after meeting President Susilo Bambang Yudhoyono, as reported by Ucanews.
"The ISIS teachings are not a religious issue," he said. "The government and the state reject and ban ISIS teachings from growing in Indonesia." "Every effort taken to expand the ISIS' teachings must be prevented. Indonesia must not be a place to spread such teachings," Suyanto said.
He added that the government would take steps such as preventing parties from establishing ISIS representatives and calling on the Ministry of Religious Affairs and religious leaders to raise public awareness about the perils of the group's teachings.
he militant group, which recently changed its name to the Islamic State (IS), has in recent months gained considerable control over major portions of Iraq and Syria. It preaches an extreme version of Wahabi Islam, and has carried out numerous campaigns targeting in particular Christians and Shia Muslims. In February 2014, al-Qaeda cut ties with the group, reportedly citing its brutality.
Suyanto made an additional call on Indonesia's communications ministry to block the spread of ISIS teachings through social media. The National Police and the National Counterterrorism Agency (BNPT) would additionally serve as "a clearing house" for all who travel to the Middle East and South Asia. Up until Tuesday, however, the video entitled Join the Ranks could still be viewed on YouTube.
Religious leaders including Jalaluddin Rakhmat from the Shia-linked organization -- the Indonesian Ahlul Bait Association – have condemned the movement. "We strongly reject its existence and followers in Indonesia," he said at a press conference in Jakarta. The BNPT chief, Ansyaad Mbai, told ucanews.com there were about 30 Indonesians fighting in Iraq. "Most are former terrorism prisoners," he said.
Meanwhile in India two young men have been arrested in Ramanthapuram district of Tamil Nadu after a photograph of a group of people posing in T-shirts with the emblem of the Sunni militant group ISIS went viral on social media.
The two men, Abdul Rahman and Rilvan, have been charged with abetting insurgent activity and criminal conspiracy for ordering and distributing the T-shirts. The ISIS or the Islamic State of Iraq and Syria is a breakaway group of the Al Qaeda, which has captured large swathes of Iraq and Syria and have declared a Muslim "caliphate".
"Though ISIS is not a banned organisation, it is an insurgent group fighting against governments abroad. Both these men are active supporters of the ISIS and were seeking the support of others. They celebrated the cause of the ISIS by distributing T-shirts with the insurgent group's emblem," a senior police officer told NDTV.
Four young men from Mumbai are believed to have joined the ISIS recently and the Maharashtra police have said they suspect there could be more such cases.
The Indian occupation army has said the surfacing of ISIS flags during street protests and clashes is highly concerning. Talking to Indian news channels, General Officer Commanding (GOC) 15 Chinar Corps Lieutenant General Subrata Saha said, "It deserves and is getting the highest security concerns from us."
Since the past one month, youths in Srinagar's Old City have displayed the black flags of al- Qaeda-inspired group ISIS during pro-Palestine and anti-India protests and clashes. On July 11, the ISIS flag made a debut in the disputed Kashmir valley during a pro-Palestine protest outside Central Jamia Masjid. Since then, students have displayed the flag at least five times, including once in city center Lal Chowk during pro-Palestine protest by students. On Eid day, Kashmiri youth waved flags of ISIS, al-Qaeda and Taliban during clashes with Indian security forces.
At several places in Srinagar, pro-ISIS graffiti has appeared. In Batamaloo neighborhood of Srinagar a walk chalking reads "Welcome ISIS". A defence official said there is no presence of al-Qaeda, ISIS or Taliban in Kashmir. "But many youth in Kashmir are embracing their ideology. A large number of youths are getting radicalised."
In Pakistan the militants are said to be getting influenced by the ISIS movement, with at least one group declaring allegiance to the insurgents, a Pakistani security analyst has said. Muhammad Amir Rana said in Dawn on Sunday that the Pakistani militant group Tehreek-i-Khilafat's declaration of allegiance to the Islamic State of Iraq and al-Sham (ISIS) "has surprised many".
The Pakistani Taliban group of Tahreek-e-Khilafat (the Caliphate Movement) declared their allegiance to the Islamic State of Iraq and Syria (ISIS), and the group has started to gain much influence in the Afghanistan-Pakistan border as well as some other areas in central and southern Asia. The group is said to be a potential rival to the Al-Qaeda network, to which it claims no ties.
Analysts believe that since Pakistan is a safe haven to many surge groups, there is a high possibility that some other extremists groups will also pledge allegiance to Al-Baghdadi.
Analysts assert that there are proper grounds for ISIS's influence in the Afghanistan-Pakistan border regions, pointing to the fact that 234 militant groups already operate in Pakistan, about 60 of which seem eager to join ISIS.
In Malaysia, Following months of anti-Shia vitriol, news sources have confirmed that dozens of Malaysians, including young children, have been recruited by ISIS as suicide bombers. According to Malaysian newspaper The Star, "Ahmad Tarmimi has the dubious honour of being Malaysia's first suicide bomber linked to the Islamic State of Iraq and Sham." Tarmimi conducted a suicide attack in May 2014 that resulted in the deaths of more than two dozen Iraqi military members.
(Source: UCANews, Dawn, NDTV, The Star)