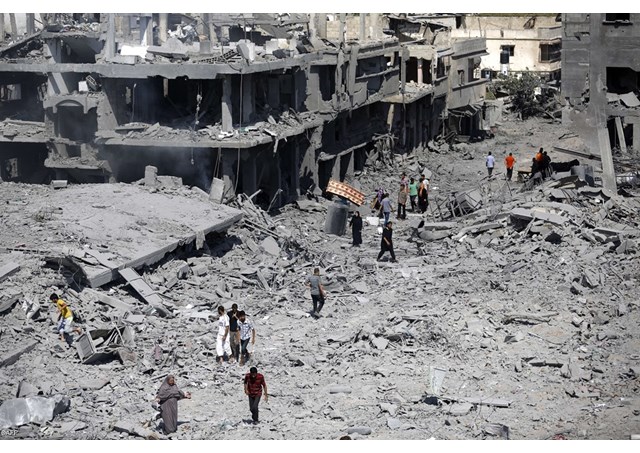 (Vatican Radio) Humanitarian aid workers jumped into action as the 12-hour humanitarian ceasefire between Israel and Hamas militants came into effect at 8 a.m. on Saturday morning.
Matthew McGarry, Catholic Relief Services representative for Jerusalem, Gaza and the West Bank, said his team hopes to be able to meet the basic needs of at least 250 families by the end of the day, which translates roughly into 1,300 people.
CRS has procured 3,000 survival kits for displaced households, including hygiene items, kitchen sets, gas burners and propane tanks for food preparation and water storage equipment, and intends to distribute in the coming days what cannot be accomplished on Saturday.
McGarry said the current situation in Gaza is traumatic, and recent events included the death of a CRS collaborator.
"The situation in Gaza is really quite horrible. There are entire neighborhoods that have been basically destroyed. There are well over 100,000, I think close to 150,000 individuals who have been displaced and those are just the ones that we know of. There are many others who are taking shelter either out in the open, or with relatives or in damaged buildings. There has been a huge loss of civilian lives. One of our staff had several of her relatives killed. One of our young women in our job training program, trying to make a better life for herself, was killed in her home. It has been terribly traumatic. Power has been down to two hours every 48 hours for several days this week. It is a little bit better now.  There has been breaks in sewage lines. There has been loss of water to many areas."
"Gaza is a very difficult, precarious place under normal circumstances, or what passes for normal in Gaza. But the violence of the last two and a half weeks has made it a real difficult, traumatized, and battered place"
As in most conflicts, he said, it is the civilians who are bearing the brunt of the violence.
"I would continue to emphasize that—as is almost always the case in these conflicts—it is the civilians who are bearing the brunt of it. And we just continue to call for a longer term ceasefire so that we and the rest of the humanitarian community are able to reach these hundreds and thousands of individuals who have been affected by the conflict and need our assistance and so that there is space for a longer-term, lasting solution to the conflict."
As international talks on a longer truce resume in Paris on Saturday, the most recent death toll from the 18-day conflict includes about 940 Palestinians and 38 Israelis. Another 5,870 Palestinians have been injured. 
Listen to the report by Laura Ieraci: