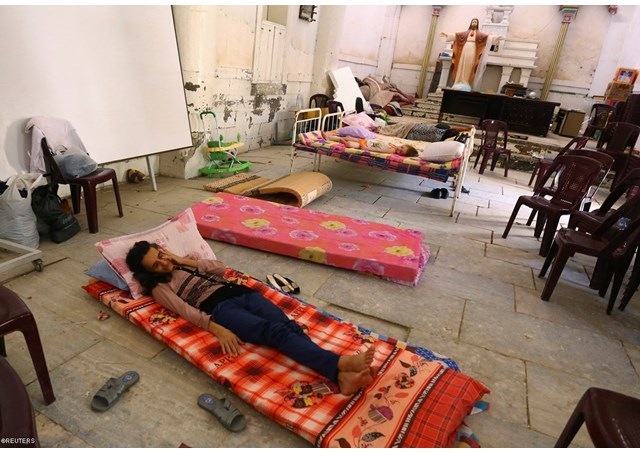 (Vatican Radio/Fides)  "Where is the respect for the rights of Christians?" the Auxiliary Bishop of Baghdad Shlemon Warduni asks Vatican Radio. "We have to ask the world: Why are you silent? Why do not you speak out? Do human rights exist, or not? And if they exist, where are they?  There are many, many cases that should arouse the conscience of the whole world: Where is Europe? Where is America?"
Emer McCarthy reports Listen: 
There has been no rest or refuge from Islamic State militants for Iraq's minorities amid Western silence. ISIS jihadists launched a mortar attack against the village of Tilkif Wednesday in an attempt to break into one of the towns in the Nineveh Plain, - Northern Iraq - where families fleeing from Mosul had found refuge.
Chaldean Catholic priest Paul Thabit Mekko told Fides Agency "The attack started from a village controlled by jihadists but was rejected by the Kurdish Peshmerga troops. In the night panic had driven dozens of Christian families to flee to Dohuk, but the Kurdish soldiers who were controlling a checkpoint told them that the situation was under control and could return home".
The attack reinforces that Islamic State militants  are pushing ahead with their goal to extend control over the Nineveh Plain. However, it also underscores the Kurds determination to stop them. Kurdish Peshmerga milita also repelled ISIS attacks on other villages in and around the Christian majority area of Qaraqosh.
However,  these villages are suffering from a lack of electricity, water and medicines. They were connected to Mosul's electric grid and a water pipeline from Salamiya , but ISIS has cut them off.
The German based aid agency Christian Aid Program of Northern Iraq (CAPNI) – one of the few operative in the area - reports that all churches and monasteries in Mosul have been seized by Islamic State jihadists.
On Tuesday, the leaders of the Iraqi Christian communities, Catholic and Orthodox met in Erbil, appealing to people worldwide to break the silence surrounding the ethnic cleansing of Christian, Yezedi and Shabak minorities from Northern Iraq.
"We are faced with this situation. The patriarch and bishops we now find ourselves in the north and we are trying to get to grips with this serious, very serious situation", the Auxiliary Bishop Warduni tells says.
"We ask ourselves why is this happening? These things against human dignity? Against God, against mankind ... "These [people] rip the medicines from the hands of children, small children and throw them on the ground ...".
"This morning, we went to the President of Kurdistan and made great promises to us. He said: "Either we all leave go together, or we stay, but all together. We have to stop these people, who are unconscionable because they do terrible things to people, to children, to the elderly, the sick ... ". He assured protection for Christians".
The prelate adds that the silence of the West is compounded by rumors that more than 2000 militants among the ISIS troops "are European and US mercenaries". Christian political parties have gone to the UN office in Ankawa to demand that the international community protect Iraqi Christians.

More than 1.2 million people are now believed to have fled their homes in the last month. As violence and instability continues to spread, and as summer temperatures reach 45°C, those displaced are in urgent need of assistance. Moreover there are more than 225,000 refugees from Syria already  in northern Iraq