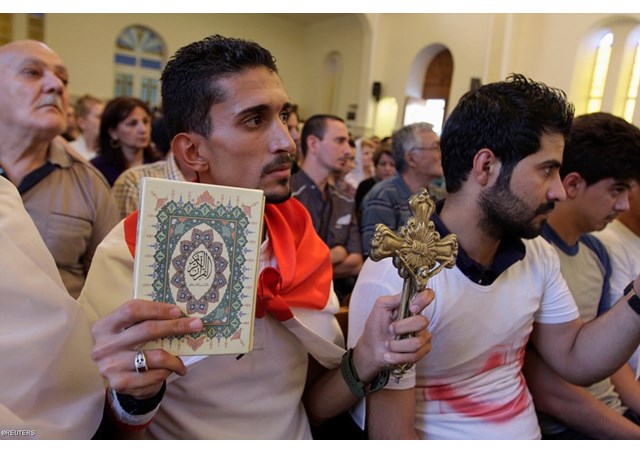 (Vatican Radio) Baghdad's Christians and Muslims gathered in a show of solidarity for the families forced to flee Mosul this weekend ahead of a Islamist deadline to convert, submit to their radical rule and pay a religious levy, or die.
Emer McCarthy reports Listen: 
Hundreds of Christian families left Mosul ahead of Saturday's ultimatum, many of them stripped of their possessions as they fled for safety.
People of other faiths, including Shi'ites, Yazidis and Shabaks, have also fled from the ultra-conservative Islamic State militants, who have blown up churches, mosques and shrines and seized property of fleeing minorities.
These people formed the remnants of a community which once numbered in the tens of thousands.  Christians had traced their presence in Mosul to the earliest years of Christianity. There are now no Christians left in the city.
Leading a service of solidarity in Baghdad, Chaldean Patriarch Louis Raphaël I Sako said "the heinous crime of the Islamic State was carried out not just against Christians, but against humanity".   
Reuters news service reports that Muslims at the service held up leaflets declaring "I am
Iraqi, I am Christian", some writing it on their shirts. Others marked themselves with an "N", the first letter of the Arabic word for Christian, "Nasrani" or Nazarene. The Islamic State has been putting an "N" on Christian property marked out for seizure.
Baghdad's auxiliary bishop, Shlemon Wardooni, called for an international response. "The world must act, speak out, consider human rights," he said, adding that the Iraqi state was weak and divided and Muslim leaders had remained silent.
On Sunday, Iraq's prime minister condemned ISIS's actions targeting Christians in territory it controls, saying "their aggression against the churches and houses of worship in the areas under their control reveals beyond any doubt the extremist, criminal and terrorist nature of this group".
He said he instructed a government committee set up to support displaced people across Iraq to help the Christians who had been made homeless, but did not say when the army might try to win back control of Mosul.
In New York, the office of UN Secretary-General Ban Ki-Moon issued a statement condemning ISIS attacks on all religions as a crime against humanity, for which those responsible must be held accountable.