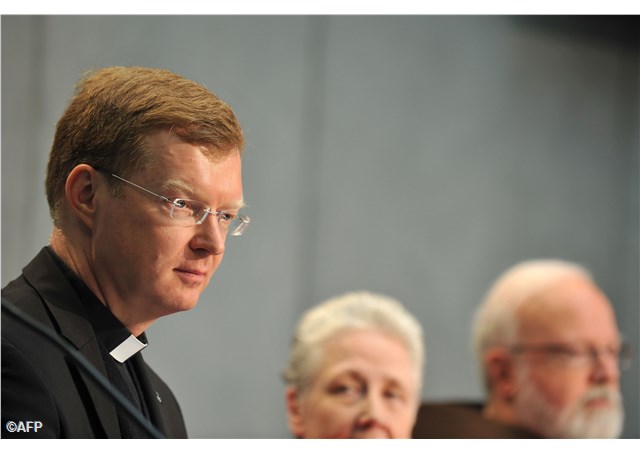 (Vatican Radio) Following Pope Francis' meeting with survivors of sex abuse this week, a leading Catholic child protection expert says the Church is "on track" with its safeguarding policies and is sharing expertise with secular organisations working in the same field.
Jesuit Fr Hans Zollner is a psychology professor at Rome's Gregorian University and heads its Centre for the Protection of Minors. He also serves as a member of the recently established Vatican Commission on safeguarding and care of abuse victims. On Monday he accompanied two of the six abuse victims who spent almost three and a half hours sharing their stories with Pope Francis following Mass in his Santa Marta residence.
Fr Hans talked to Philippa Hitchen about those encounters, about the work of the Vatican Commission and about the way the Catholic Church is sharing its expertise with others….
Listen  
The Commission met for the second time on Sunday…..we discussed membership issues, we want to add some members especially from those areas that are not represented now, Africa, Asia, Oceania……we discussed briefly statue issues, we learned that we will have soon an office here and we prepared for the meeting with the victims……
I was present as a translator for the two German victims in the encounter with the Holy Father, I can say it was amazing how much time he took…..and it was even more impressive to see the Holy Father's reaction and these people's reaction – all of them came out of the meeting with a sense of deep gratitude that they had been listened to…
I can say the two meetings went quite differently, the first one didn't talk much about her own experience of the abuse that happened many years ago. She tried to interact with the Holy Father who replied so there was a real dialogue going on in which she explained about her whole journey over decades, what she has suffered from the moment she was abused and, as she said, 'her soul disappeared from her body' and then the little steps that helped her come back to herself…….she said Holy Father, you have to do something to help perpetrators not to offend again…
The second meeting went quite differently, the person talked and talked about the abuse and the misdealing of the diocese that handled the case 15 years after…..he didn't find himself listened to or accepted – but that was his experience now when he was invited to come to Rome, to the centre of the Catholic Church, which really transformed him….this is also what we have to put on our priority list for the Commission, to ask bishops and superiors to meet victims and sit with them for as long as the Holy Father did…..there is nothing that is more important than an open ear and an open heart because this is the way in which reconciliation can start….
I am convinced the Church is on track on this, we have only just begun but we have begun to change attitudes…I can tell you that in a certain developed country a ministry called up an archbishop and asked how do you deal with perpetrators because in our education ministry we don't know how to deal with offending teachers…..so there's already some collaboration in some countries but also some expertise that we have gathered that can be shared…..